Horse racing event to launch 2017 sports season
Source: Changjiang Weekly 02/10/2017 03:02:49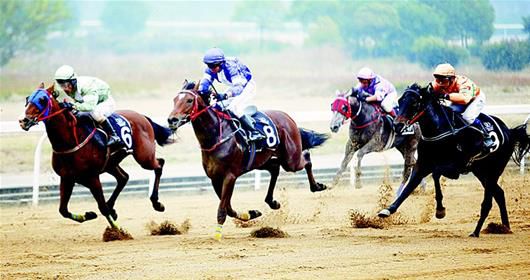 The 2017 Wuhan Speed Horse Racing Open will kick off on February 11, the day of the Chinese Lantern Festival, at Orient Lucky City in Wuhan.
Champion jockeys nationwide will greet the local audience and attend five speed races: two 1,100-meter races, a 1,000-meter race, a 1,200- meter race, and a 1,800-meter race. The races will open the annual horse racing event in Wuhan lasting from February to December.
Meanwhile, the 2017 Wuhan sports season has also been launched, and over 20 domestic and international sporting events will be held throughout the year. These include the Badminton Asian Championships, World DanceSport Federation Grand Slam, WTA Wuhan Open, World Fly-in Exhibition (WFE), International Youth Football Tournament, National Diving Championship, National Gymnastics Championships & National Games Qualifiers, China Touring Car Championship & China Touring Car Open, and China Drift Championship.
The FIFA World Cup Qualifier Asian Rounds will be held in Wuhan Sports Center at the end of August. Wuhan defeated other cities and won the bid for the last home game that is crucial to the Chinese Men's National Football Team. World-famous Italian coach Marcello Lippi will lead the Chinese team in the game.
At present, the number of domestic and international games held in Wuhan every year ranks first among cities in Central China and behind only Beijing, Shanghai, and Guangzhou nationwide.
Other local sporting events are also drawing attention, such as the Wuhan Marathon, Wuhan International Yangtze River Crossing Festival, and the Wuhan University-Huazhong University of Science and Technology Dragon Boat Race.
SEARCH the SITE
Visiting Hubei