The 4th International Taoism Forum to be held at Wudang Mountain in May
Source: hubei.gov.cn 02/08/2017 03:02:38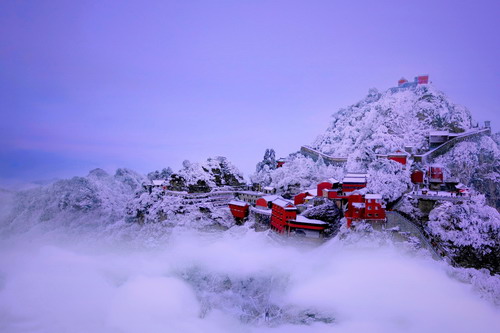 Ancient buildings on Wudang Mountain
The 4th International Taoism Forum will take place on May 10 - 12 at Wudang Mountain, Hubei Province, the organizing committee announced on February 7, 2017.
The forum will focuse on five major topics, namely, the relationship between nature and ecological ethics, physical and mental health, social welfare, eco-friendly environment. Meanwhile, 12 thematic activities will also be organized during the three days.
The annual Taoism International Forum is jointly founded by the Taoist Association of China and the China Religious Culture Communication Association. The first three editions were held in Xi'an (Shaanxi), Hengshan Mountain (Hunan) and Longhu Mountain (Jiangxi), respectively.
Wudang Mountain, in the northwest of Hubei province, is perhaps the best known of China's Taoist holy mountains. It was listed by UNESCO as a World Cultural Heritage Site in 1994. (hubei.gov.cn by Ruan Xinqi)
SEARCH the SITE
Visiting Hubei