Three national industry bases laid out in Wuhan
Source: hubei.gov.cn 02/07/2017 04:02:02
At present, China is laying out three state-level industry bases in Wuhan, capital city of central China's Hubei Province, to develop memory, commercial space and new energy vehicle (intelligent connected vehicle) industries.
The three bases, now, having laid foundation, started construction or received approval, will be built into an international industry cluster.
National Memory Base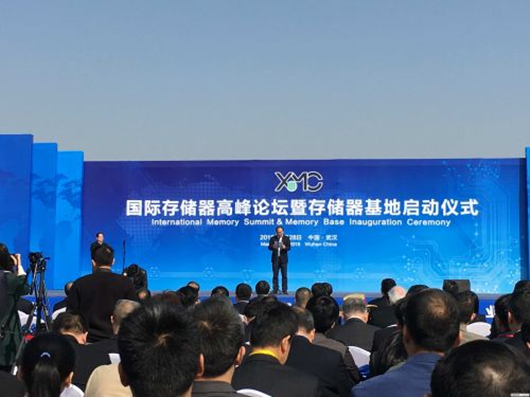 The International Memory Summit & Memory Base Inauguration Ceremony was held in Wuhan Optics Valley on March 28, 2016.
The National Memory Base with a total investment of 24 billion U.S. dollars was inaugurated in Wuhan East Lake Hi-tech Development Zone. It is the largest individual hi-tech industry project in Hubei since 1949.
Located in the Optics Valley Intelligent Manufacturing Industrial Park of Wuhan East Lake Hi-tech Development Zone, the project includes chip manufacturing and industrial chain supporting, etc. It plans to invest 24 billion U.S. dollars in five years, and the monthly output is estimated to reach 300,000 chips by 2020 and one million chips by 2030.
The memory base will integrate product design, technology research and development, wafer fabrication and test and market. After completion, the base will drive the development of related industries in Hubei, including design, packaging, manufacturing, application, etc. A trillion level "chip-display-intelligent terminal" whole industrial chain will be realized together with Hubei's display industry represented by CSOT and Tianma Corp. and intelligent terminal industry represented by Huawei, Lenovo and Foxconn.
In 2006, Hubei province, Wuhan city and East Lake Hi-tech Development Zone invested 10 billion Yuan to build the Wuhan New Chip 12-inch wafer manufacturing project. By now, Wuhan New Chip has become China's only integrated circuit manufacturing firm which is primarily engaged in memory production. Besides, a special investment fund for Hubei's integrate circuit industry with a scale of 50 billion Yuan has also been established.
Related: Construction for National Memory Base Project starts
National Commercial Space Base

The rocket Kuaizhou-1A carrying the satellite JL-1 and two CubeSats XY-S1 and Caton-1 blasts off from Jiuquan Satellite Launch Center in northwest China's Gansu Province, Jan. 9, 2017.(photo by Zhang Wei/Vision)
The Wuhan National Commercial Space Base, located in Xinzhou District of Wuhan, is being actively prepared. With a total investment of over 100 billion yuan and total area of 68.8 square kilometers, the construction period will last for 10 years.
Hu Changchun, the person in charge of project construction, said that the plants of CASIC Rocket Technology Co., Ltd are expected to start construction in March.
On January 9, 2017, the rocket Kuaizhou-1A (KZ-1A) has sent three satellites into space marking the entry of China's space industry into the commercial era. The CASIC Rocket Technology Co., Ltd was responsible for the launch mission. It is a commercial rocket development and launch company, registered and established on Feb. 16, 2016 in Wuhan, capital city of Hubei province.
On January 10, 2017, the Hubei Changjiang Aerospace Industry Fund was founded in Wuhan. It mainly focuses on the project investment of Wuhan National Space Industry Base and Yangtze River Economic Belt.
Related:
National Intelligent Connected Vehicle Demonstration Zone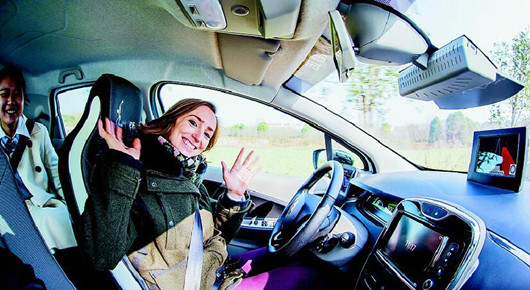 Test driver in the car. (photo by Mei Tao/Hubei Daily)
Sited on an area of 2 square kilometers in the Wuhan Economic & Technological Development Zone (WETDZ), the National Intelligent Connected Vehicle Demonstrate Zone is on the way of project approval.
Under a memorandum of understanding jointly signed by the Ministry of Industry and Information Technology and Hubei provincial government, the project makes Wuhan the first city piloting intelligent connected vehicles in central China.
The first phase of the demonstration zone is located in the Intelligent Ecological City of WETDZ, aiming to test the self-driving function of the intelligent connected vehicles. Five years later, the demonstration area will expand to 90 squaer kilometers and owns 1,000 self-driving cars.
(hubei.gov.cn by Ruan Xinqi)