Japanese textile master's works displayed for the first time in Wuhan
Source: Changjiang Weekly 01/04/2017 03:01:19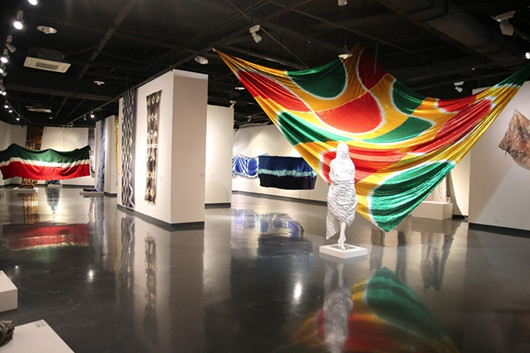 The exhibition "Evolutionary Cloth ─ Art of Junichi Arai" opened recently at the Hubei Museum of Art, with hundreds of cloth exhibits designed and produced by Japanese textile artist Junichi Arai, who is known as a "wizard of Japan's fabric industry." It is the first showcase of his works in Wuhan.
Junichi Arai came to prominence in the 1970s. He is an expert in using such processing methods as chemical corrosion and rotting flowers to produce cloth previously unknown to the world. His products have been used in the works of top fashion designers including Issey Miyake and Rei Kawakubo. Despite the many exhibitions of his works as fashionable fabrics throughout the world, it is the first display of Arai's works in an art museum as artwork.
Looking like decorative paintings or sculptures mounted against the wall, the artist's cloth products are either draping down to the floor or arranged in various patterns. Many displayed a metallic luster in unusual colors, and were made to look like wrinkled foil.
The exhibition continues until March 5, 2017, and is free of charge.
SEARCH the SITE
Visiting Hubei