Wuhan launches new cargo flight bound for India
Source: hubei.gov.cn 12/06/2016 03:12:02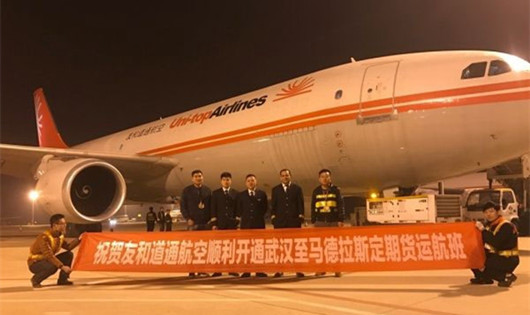 Wuhan Uni-Top Airlines added a cargo flight linking Wuhan, capital city of cental China's Hubei Province with Madras, India, on December 5, 2016.
The flight, operated by the Airbus A300-600, makes two shifts on every Monday and Thursday. The aircraft mainly transports high value-added electronic products like mobile phones.
It is the third cargo air lines between Wuhan and India, after the flights of Wuhan-Mumbai and Wuhan-Delhi.
Madras is India's fourth largest commercial city and a very famous industrial center. The opening of this cargo flight is of great benefit to the trade between China and South Asian region.(hubei.gov.cn by Ruan Xinqi)
SEARCH the SITE
Visiting Hubei