Wuhan completes free wifi coverage on metro trains of Line 2&3
Source: hubei.gov.cn 11/30/2016 04:11:23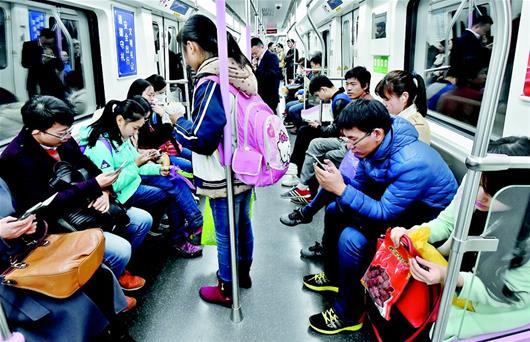 Wuhan, capital city of Hubei Province began to open free access to wifi on metro trains on November 29, 2016, becoming China's second city providing such convenience for passengers after Shanghai.
At present, the free wifi is only available at the first phase projects of Wuhan Metro Line 2 (from Jinyintan Station to Guanggu Square Station) and Line 3 (from Hongtu Boulevard Station to Zhuanyang Boulevard Station). Except for some new trains of Metro Line 2, all the trains thave completed free wifi coverage.
The app called "花生地铁WiFi" is recommended to be installed for stable signals. The areas with free wifi mainly cover the platforms, train's cabins and the tunnels.
As introduced, Wuhan metro trains totally commute 2,070,000 people every day. It is expected that, in the near future, around 200,000 passengers will make access to free wifi at the same period. The wifi now could meet the needs of more than one million passengers on each day, which will triple to over three million after ceaseless optimization and upgrade. (hubei.gov.cn by Ruan Xinqi)
Related:First featured station of Line 3, Wuhan Metro debuts