18 Wuhan schools establish sister-school relationships with British schools
Source: Changjiang Weekly 11/08/2016 09:11:42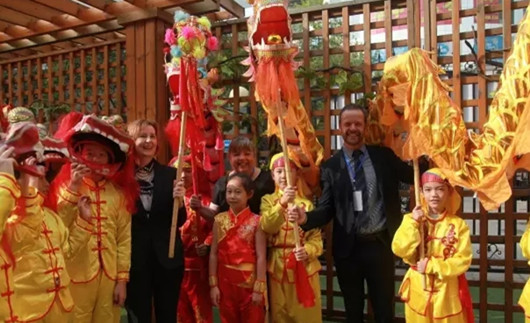 On October 28, 12 headmasters from Manchester signed agreements to establish sister-school relationships with representatives of 18 primary and middle schools from Wuhan. The two sides will continue to communicate and exchange ideas to enhance their cooperation.
The activity is called "Chinese Bridge for UK Schools" and was launched by the Confucius Institute Headquarters (Hanban). Sixty headmasters of British primary and secondary schools and education officials were invited to visit Chongqing, Jiangsu, and Hubei in 2016.
For the 30th anniversary of the sister city relationship between Wuhan and Manchester, 12 headmasters from Manchester paid a special visit to Wuhan for six days. They visited 18 primary and secondary schools in Wuhan, where they sat in classes and listened to local students reading classics, watched school-based curriculum classes, experienced traditional Chinese culture, and exchanged views on the different educational characteristics between Chinese and British primary and secondary schools with Wuhan teachers and students.
Since 2009, 17 primary and secondary schools in Wuhan have taken part in the China—Britain "Connecting Classrooms" project and the teachers and students from the two cities have carried out various exchange activities.
Last September, the Wuhan Municipal Government invited 22 high school students from its sister cities overseas to study here for three months, including one student from Manchester.
The schools that have established new sister school relationships with British schools are Wuhan Yucai Senior High School, Qiyi Middle School, Honggangcheng Primary School, and Zhonghualu Primary School.
Mao Xiaofeng, headmaster of Wuhan Yucai Senior High School, a sister school with Wade Deacon High School, said the two schools would maintain a long-term cooperation, with a focus on exchange visits for teachers and students, as well as sharing curriculum resources.
Related: Wuhan-Manchester Week opens in Wuhan