Hubei private college recruits international students
Source: hubei.gov.cn 09/02/2016 09:09:01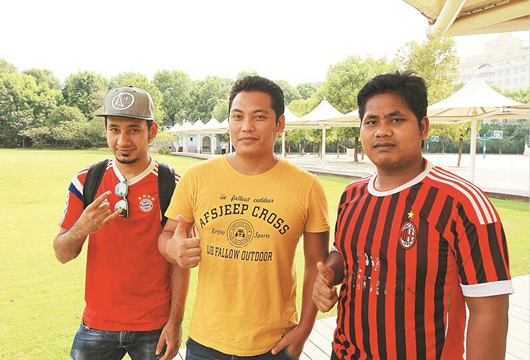 SANI (1st left) and other two international students (photo by Song Zhentao)
Wuchang University of Technology (WUT) recruits over 90 international students who come from 23 countries and regions including Pakistan, Belgium, the Philippines, etc. This is the first batch of international students recruited by Hubei private college.
Lu Jiangbin, head of WUT's School of International Education, introduced that the recruitment work started at the end of 2015, and more than 120 international students applied for admission.
These international students will take Chinese language courses before they choose other majors. SANI from Nepal has been in China for 5 years, and he was a medical student in Jiangxi before enrolled into WUT. He said, "I'm very glad to study in Wuhan, and the environment is good here."
In recent years, WUT has opened three overseas branches in Osaka, Paris and Tokyo, recruiting foreign students and sending teachers to lecture abroad.
Related:
Wuchang University of Technology opens a branch in Japan
The Japanese branch of Wuchang University of Technology was inaugurated in Osaka on April 6, 2015. This is the first overseas branch school set up by a university in Hubei. >>more
(hubei.gov.cn by Mao Huifang)