Rescue cultural relics along the water diversion project
Source: hubei.gov.cn 08/10/2016 04:08:33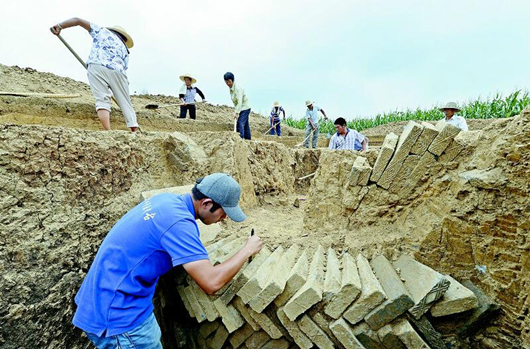 Photo by Zhao Sheng
Photo taken on Aug. 9 shows a team from Department of Archaeology, Sichuan University is carrying out protective excavation to an Eastern Han Dynasty graveyard, which is located in Laohekou city, along the water diversion project in north Hubei.
As introduced, the project, which will divert 1.4 billion cubic meters of water each year from Danjiangkou Reservoir to the cities of Xiangyang, Suizhou and Xiaogan in north Hubei after completion, involves 44 archaeological sites.
Nearly 600 archaeological workers from 15 institutions including Nanjing University, Renmin University of China, Sichuan University and Wuhan University, carry out excavations at those sites, and the field work is estimated to finish in the end of September.
Related:
China begins large water diversion project
A large water diversion project broke ground on Thursday in central China's Hubei Province, which will benefit nearly 5 million people after completion. The 270-km pipeline will divert 1.4 billion cubic meters of water each year from Danjiangkou Reservoir to the cities of Xiangyang, Suizhou and Xiaogan in north Hubei. >>more
(hubei.gov.cn by Mao Huifang)
SEARCH the SITE
Visiting Hubei