Top 10 greenways with most beautiful landscape in Wuhan
Source: hubei.gov.cn 08/05/2016 04:08:56
Editor's note: As of early 2015, Wuhan has basically completed Dongsha lakes greenway, Houguan Lake Greenway and Bund Greenway, etc, and boasted several greenways under planning or construction. Wuhan greenways is classified as suburb greenways, urban greenways and community greenways in terms of different function. The city plans to build greenways of 2,200 kilometers in length, including urban greenways of 465 kilometers and suburb greenways of 1,735 kilometers.
An intricate network of greenways is forming here in Wuhan. These greenways allow local citizens to walk, jog, or ride their bicycles in a pleasant environment filled with beautiful natural landscapes. Here, we will introduce ten of this city's greenways with most beautiful landscape.
1. Mulan Scenic Area greenway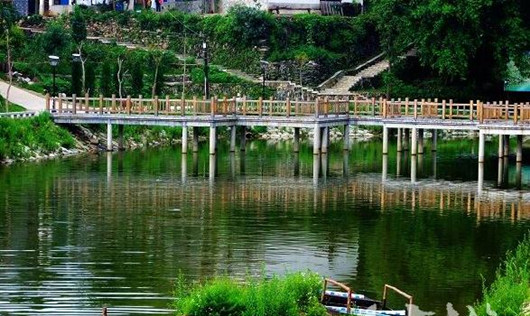 Feature: The greenway, connecting the scenic spots in Mulan Scenic Area, is one of main suburb greenways in Wuhan. It now has built a 10-kilometer cycle path, ranging from Panlong Bridge to Houhu Lake Bridge.
Beneficiaries: residents in Huangpi and Hankou districts
2. Greenways in residential communities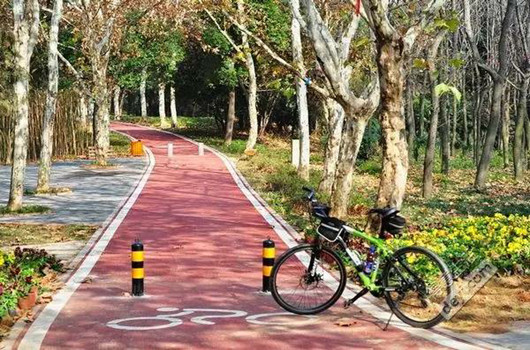 The greenway in Huizhong residential community, Jiang'an District.
Feature: The greenways include those in the residential communities as Nanganqu (Qingshan District), Huizhong (Jiang'an), Tuanjie Road(Wuchang), etc. The paths to community parks, street gardens and roadside green space are parts of these greenways.
Beneficiaries: residents in or near the communities
3. Greenway around Jinyin Lake
Feature: The 20-kilometer-long Jinyin Lake Greenway runs around the lake area. Along the greenway are 16 scenic spots associated with the largest suburban wetland in Wuhan.
Beneficiaries: residents in Hankou
4. Greenway around Hankou District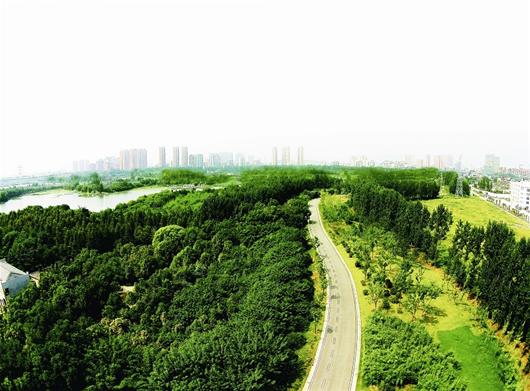 Zhanggongdi greenway
Feature: The greenway runs around the Hankou downtown, passing Zhanggongdi, the riverbanks along Yangtze River and its tributary Hanjiang River. Now, the greenway has completed 40 kilometers for jogging, cycling and sightseeing.
Beneficiaries: more than 2 million people in Hankou
5. Houguan Lake greenway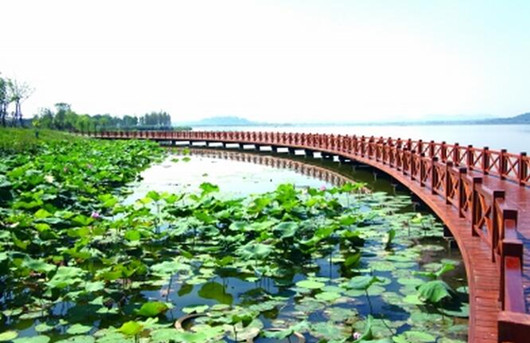 Houguan Lake greenway
Feature: Located in western Wuhan, Houguan Lake is part of a water network which connects six different lakes; the collective water surface area is approximately 300 square kilometers. A 40,000-mu forest, as well as a 110-kilometer greenway, surrounds the lake area. The Houguan Lake greenway has been chosen as the competition site for the Wuhan section of the "Tour of China" Road Cycling Race. People come here for a variety of reasons. Not only is this greenway a great place for exercise, such as walking, long-distance running, and cycling, but it is also a place for paintballing, yachting, and aeromodelling and flying.
Beneficiaries: residents of Caidian and Dongxihu districts
6. Moshui Lake greenway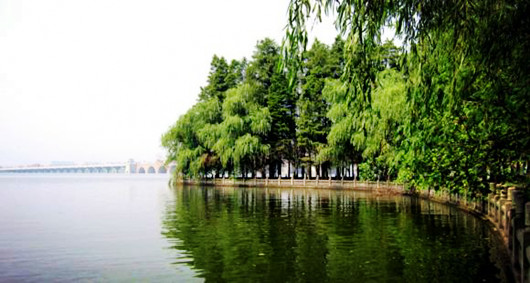 Moshui Lake greenway
Feature: The 19-kilometer Moshui Lake Greenway, starts from Nan'anzui, connecting Qingchuan Pavillion, Tortoise Hill, Ancient Lute Pavilion, Yue Lake, Meizi Hill, and ends in Moshui Lake. It could afford visitors to walk and enjoy the history, culture and landscapes of Hanyang District.
Beneficiaries: residents in Hankou and Hanyang districts.
7. Shizi Mountain greenway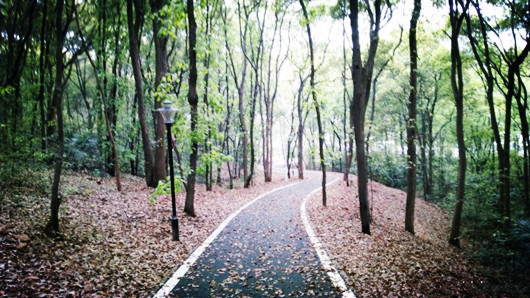 Shizi Mountian greenway
Feature: Shizi Mountain greenway is built in Huazhong Agricultural University. With a total investment of 10 million yuan, it covers 10.37 kilometers, including the walking paths into the hill, around the hill and in the middle section of the hill. It was planed to completed in late 2015.
Beneficiaries: over 500,000 residents nearby
8. Shahu Lake Park greenway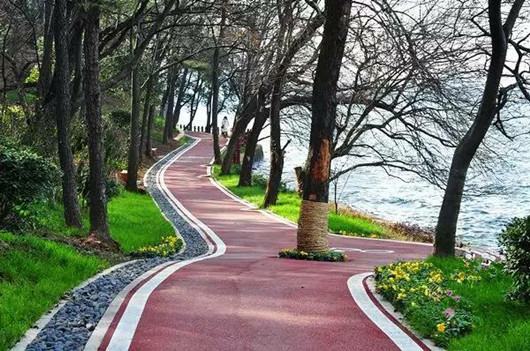 Shahu Lake greenway
Feature: Shahu Lake is the largest lake in the inner ring road of Wuhan. The Shahu Lake Park greenway, which is six kilometers long, connects Shahu Park, Han Street and other natural and cultural scenic spots. Walking along the boardwalk, visitors can enjoy the sounds of flowing water and appreciate the wonderfully-green environment.
Beneficiaries: residents in Wuchang District
9. Greenway around Qinglong Mountain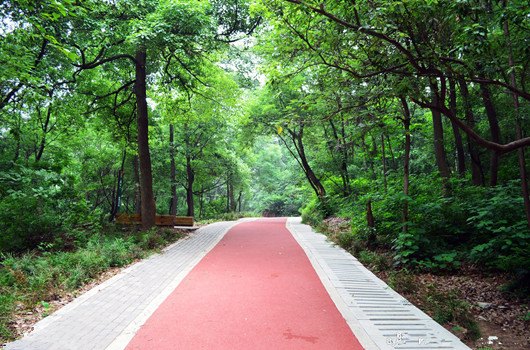 Greenway around the Qinglong Mountain
Feature: Wuhan's first mountain hiking greenway is 30 kilometers long. It starts at Miaoshan on Jinlong Street, passes the Dahua Mountains, the Qinglong Mountains and Bafen Mountains, and stops at Daqiaoxinqu on Jinlong Street. The trail winds along the undulating hills and is shaded by dense trees and bushes. From atop the higher hills, visitors can see out across Zhifang New City. Along the greenway are small reservoirs and cultivated landscapes.
Beneficiaries: residents in Jiangxia District and Optics Valley region
10. Wuhan Economic and Technological Development Zone greenway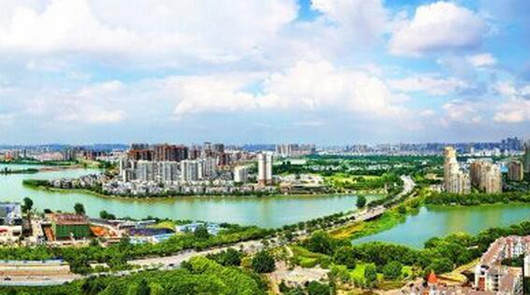 Feature: The 67-kilometer greenway in the Wuhan Economic and Technological Development Zone connects five lakes, Beitaizi Lake, Nantaizi Lake, Tanghu Lake, Houguan Lake, and Zhushan Lake, and one mountain, Zhushan Mountain. Walking along this greenway, visitors can enjoy refreshing natural scenes characterized by beautiful lakes and flowers and many pleasing natural fragrances. It is a great place for cycling, jogging, and walking.
Beneficiaries: residents in WETDZ and Hanyang District
Related: Wuhan East Lake Greenway strides onto world stage
(hubei.gov.cn by Ruan Xinqi)