281 international students graduate from WHU
Source: hubei.gov.cn 07/05/2016 05:07:51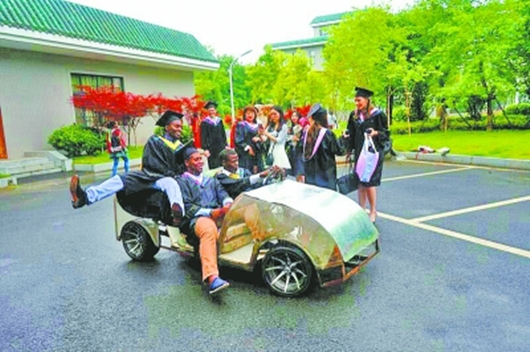 The 2016 Wuhan University (WHU) international student graduation ceremony was held recently. 281 international students from 58 countries finished their study in WHU and waved goodbye to the campus.
"Wuhan University, please don't forget us!" the students shouted loudly in Chinese after the sacred degree awarding ceremony. Zhang Duosi, who came from Kazakhstan, said proudly that "I'm the first international student that has got the bachelor's degree of geophysics from WHU!" During the four-year study, Zhang organized a WHU Kazakhstan students union together with his compatriots, and he also actively served other international students in the school.
An African youth from Burkina Faso drove his self-made car to celebrate the graduation. He was found of assembling all kinds of instrument and engines, and was selected to be a nominee of the 2014 WHU "Luojia Top 10 Students".
(hubei.gov.cn by Mao Huifang)