Specific sessions of COCPDC 2016 held to promote overseas projects
Source: hubei.gov.cn 06/24/2016 04:06:43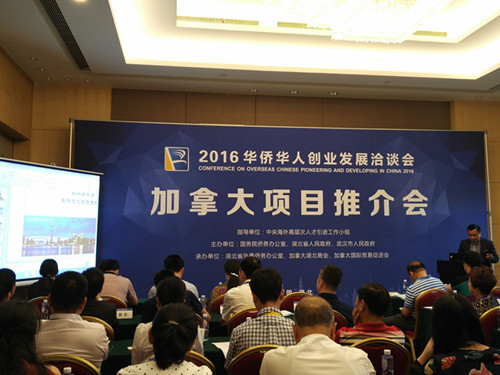 The specific session for Canada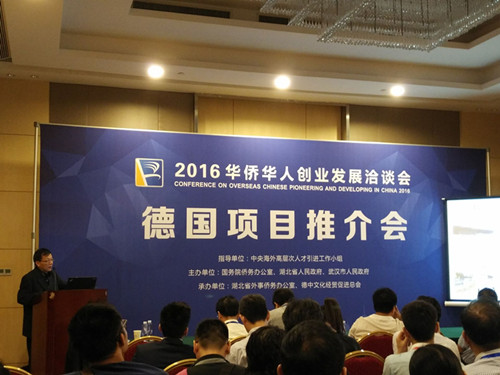 The specific session for Germany
As the sub-events of Conference on Overseas Chinese Pioneering and Developing in China (COCPDC) 2016, the overseas specific sessions were held at Wuhan East Lake International Conference Center on June 24.
The overseas Chinese institutions and government agencies of six countries as France, Sweden, Thailand, Canada, Germany and New Zealand fell back on COCPDC, promoting their own projects.
The Hubei Business Association of New Zealand promoted more than 10 projects at the specific session, relating to the fields of real estate, logistics, high technology. "We expect to bring quanlity projects back to China, as well as take more domestic projects to global markets based on the conference, " said Hu Hong, president of Hubei Busienss Association of New Zealand.
In the session for Thailand, 13 projects reached agreements and the Hubei Chamber of Commerce in Thailand signed with the local government of Jingmen and a tea company.
Le Mans, a city of France, attached great importance to the promotional session. Nine representatives of business and government presented on site to seek cooperation in breeding horse, horse racing, knight and chef trainings, etc.
Due to the spreading influence of COCPDC, its organizer committee has opened parallel sessions in recent years, to meet the needs of overseas Chinese in Australia, the U.S., and Germany, while more and more overseas Chinese and government agencies took the initiative to participate in the conference to look for opportunities of cooperation and investment.
It was introduced that the key projects of this COCPDC has introduced in foreign capical of 3.013 billion yuan, which was contributed by contracted partners from Germany, France, UK, Hungary and other nine countries and regions. (hubei.gov.cn by Ruan Xinqi)
Related:
2016 COCPDC grandly opens in Wuhan
2016 COCPDC sees 29 key projects signed
SEARCH the SITE
Visiting Hubei