Central China signs 28 major projects
Source: hubei.gov.cn 06/06/2016 10:06:40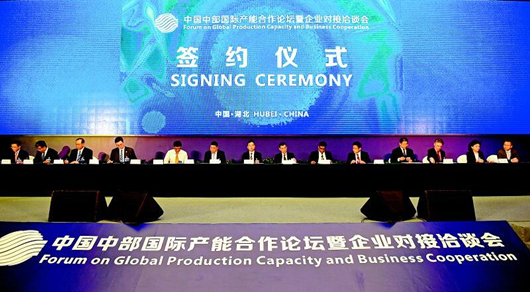 28 major projects of six provinces in central China, namely, Hubei, Hunan, Jiangxi, Anhui, Shanxi and Henan, were sign during the Forum on Global Production Capacity and Business Cooperation, which kicked off on June 5 in Wuhan, capital of Hubei.
The 28 projects, whose value reached nearly 8 billion U.S. dollars, covered fields of new energy, energy conservation and environment protection, bio-pharmaceutical, high and new technology, infrastructure, logistics, etc. Hubei accounted for 17 projects with a contract volume of 6.835 billion U.S. dollars.
Some of the projects filled in industrial gaps of destination country, for example, Wuhuan Engineering Co., Ltd. signed a PVC construction cooperation project with a company from Bangladesh, which will change the latter's long-term dependency on imported relative raw material.
The foreign side mainly consisted of countries along the "Belt and Road" and key countries in global production capacity cooperation.
Related:
Forum on Global Production Capacity and Business Cooperation opens
To ensure smooth conduction of global production capacity cooperation dialogues, enterprise fairs, region and country specific sessions, themed semimars, more than 220 face to face business talks, and contract signing ceremonies, the organizing committee has teamed over 300 excellent translators of English, Russian, Spainish and French to provide on-site service. >>more
(hubei.gov.cn by Mao Huifang)