Forum on Global Production Capacity and Business Cooperation opens
Source: hubei.gov.cv 06/05/2016 09:06:10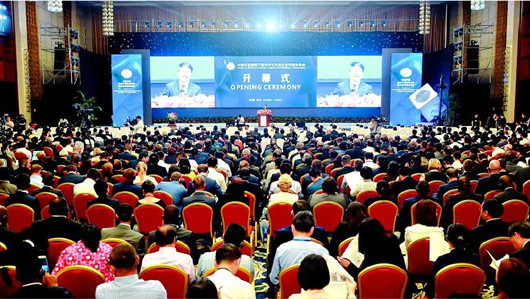 On June 5, the Forum on Global Production Capacity and Business Cooperation opened in Wuhan, capital city of central China's Hubei Province.
It was introduced that more than 2000 guests from over 70 countries attended the Forum, including VIP overseas guests, provincial government officials of Shanxi, Henan, Anhui, Hubei, Hunan and Jiangxi provinces, heads of major international financial institutions, renowned economists and representatives of the state - level industrial parks. A keynote speech on the Belt and Road Initiative and international production capacity was given.
The Forum is co-hosted by National Development and Reform Commission, Ministry of Foreign Affairs and Hubei Provincial People's Government with an aim to promote global production capacity cooperation in mainly five sectors, i.e., infrastructure, energy and mining, machinery and equipment, network information and agriculture and agri-products. The Forum seeks to help Chinese companies go global and strengthen international cooperation.
To ensure smooth conduction of global production capacity cooperation dialogues, enterprise fairs, region and country specific sessions, themed semimars, more than 220 face to face business talks, and contract signing ceremonies, the organizing committee has teamed over 300 excellent translators of English, Russian, Spainish and French to provide on-site service.
Special: Forum on Global Production Capacity and Business Cooperation
(hubei.gov.cn by Ruan Xinqi)