International production capacity cooperation projects of Hubei along "Belt and Road"
Source: hubei.gov.cn 04/19/2016 09:04:09
【Editor's note】: At present, Hubei has boasted 43 international production capacity cooperation projects, among which, 40 are situated in the countries and regions along the "One Belt and One Road" Initiative with total investment of 14 billion U.S.dollars.
The 40 include the projects of investment and engineering contracting with the former accounting for 30 and the latter amounting to 10, respectively.
The N-J hyperpower station undertaken by Gezhouba Group in Pakistan.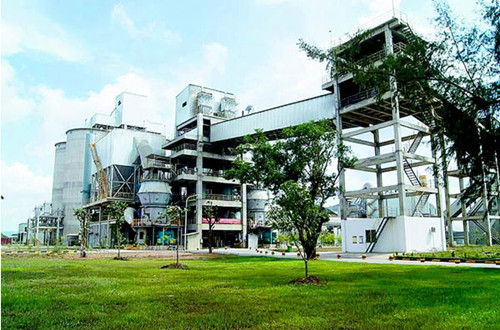 The plant in Cambodia of Huaxin Cement Co.,Ltd.
Projects of investment
Scope: 21 countries, including Pakistan, Kazakhstan, Thailand, Poland, etc.
Industries: more than 10, including hydropower, chemical, automobile, agricultural products, steel and cement, new energy, etc.
Investment amount: 5.2 billion U.S.dollars
Investors: WISCO, Huaxin Cement Co., Ltd, Angel Yeast Co. , Ltd, Tri-Ring Group, KAIDI, etc.
1.WISCO
In 1955, the construction of WISCO-the first super-large state-owned iron and steel complex established after the foundation of P. R. China, was started; on September 13, 1958, it was completed and put into production. So far, it has become a backbone state-owned enterprise under the State Council and the State-owned Assets Supervision and Administration Commission (SASAC). Located on the southern bank of the Yangtze River in the eastern suburb of Wuhan, Hubei Province, its home plant area covers total land area of 21.17km2. 2.Huaxin Cement Co., Ltd
Founded in 1907, HuaXin Cement Co., Ltd is called the "cradle of China's cement industry". During its century long history, it has made a great contribution to national and local economic construction. 3.Angel Yeast Co. , Ltd
Angel Yeast Co., Ltd, founded in 1986, is a listed high-tech yeast company in China, which is specialized in the production of yeast and yeast derivatives. Angel Yeast has 10 international advanced production bases in China, Egypt and Russia. Angel's production lines, with the advanced process control system and equipment, have achieved full CIP cleaning to ensure high-quality yeast products and food safety. Angel has ISO22000 quality management system certification, HACCP certification, GMP certification, and Kosher certification; the testing center has been accredited by CNAS, and is the only nationally recognized lab of yeast products in China.
4.Tri-Ring Group
Tri-Ring Group Corporation is a large provincial state-owned manufacturing enterprise supervised and administrated under the State-owned Assets Supervision and Administration Commission of Hubei Provincial People's Government (SASAC Hubei) which performs investors' duties on behalf of the government with total assets amounting to RMB 15 billion Yuan, mainly engaged in production and operation of special purpose vehicle, military vehicle, automobile components and CNC metalforming equipment. Tri-Ring Group Corporation is the leading enterprise of the machinery and automobile industry of Hubei Province, is selected into China's Top 500 Enterprises of Manufacturing Industry, and is awarded the honorable titles of National Automobile Parts Export Base Enterprise, National Enterprise of Observing Contracts and Keeping Promises and China Excellent Creditable Enterprise in many consecutive years.
5.Sushine Kaidi New Energy Group Co.,Ltd
Sunshine Kaidi New Energy Group Co., Ltd. operates as a hi-tech investment company in the field of green energy. It focuses on environment protection, energy saving, cleaning combustion, technical system integration, new product R&D, EPC construction, commercial operation, asset management, diversified investment, etc. The company provides safe drinking water, sewage treatment, flue gas desulfurization and denitrification, dust control, energy saving and consumption decreasing, clean combustion, biomass power generation, green energy services, etc. It also provides technical services for power plants; core technology of energy-saving products in oil-less or oil-free ignition, and replacing oil with coal powder; and owns an integrated investment and service platform in energy-saving environmental protection and green energy industry. In addition, the company offers environmental friendly products and low-carbon economy green energy services for government and corporate customers. It supplies its services to individual clients and companies in China and other Asian countries. Sunshine Kaidi New Energy Group Co., Ltd. was formerly known as Wuhan Kaidi Holding Investment Co., Ltd. The company was founded in 1992 and is based in Wuhan, China. Sunshine Kaidi New Energy Group Co., Ltd. is a high-tech enterprise dedicated to environmental protection and green energy. It is a state Innovation Demonstration Enterprise with China Huarong Assets Management Co., Ltd. as its strategic investor.
Projects of engineering contracting
Scope: 10 countries, including Bangladesh, Iran, Mongolia, Myanmar, etc.
Contract amount: 8.8 billion U.S.dollars
Contractors: Gezhouba Group, China Major Bridge Engineering Co., Ltd (MBEC), the Second Harbor Engineering Company, etc.
1. Gezhouba Group
China Gezhouba Group Corporation (CGGC), founded in 1970, is a core member of China Energy Engineering Group Co., Ltd., a super central state-owned enterprise. CGGC's businesses cover the design, construction, investment and operation in water conservancy, hydropower, thermal power, nuclear power, wind power, power transmission & transformation, highways, railways, bridges, municipal works, airports, ports, waterways, industrial and civil buildings, as well as real estate, production of cement and civil explosives, energy engineering, etc.In China, CGGC is one of the most competitive listed companies with very strong financing capabilities. As a transnational operation enterprise with the fastest growth in China, CGGC's has expanded its business in more than 100 countries and regions, ranking among the foremost 100 in the ENR Top 250 International Contractors.
2. China Major Bridge Engineering Co., Ltd (MBEC)
China Major Bridge Engineering Co., Ltd (hereinafter referred to as the Company or MBEC) is a wholly-owned subsidiary of China Railway Group Limited. The history of the Company can be traced back to Major Bridge Engineering Bureau, Ministry of Railway of P.R.C, which was established for the construction of the first bridge in China--Wuhan Yangtze River Bridge. The Company is a large four-in-one integrated construction enterprise that combines bridge scientific research, reconnaissance and design, construction and equipment manufacturing business, specialized in bridge construction over rivers, lakes and seas under various harsh or severe geological and environmental conditions. The Company is the top enterprise which has designed and constructed the most bridges in China and has always been playing the leading role in bridge construction in China.
3. the Second Harbor Engineering Company
The Second Harbor Engineering Company, or SHEC, was started in 1950 as one of the four first-class port construction enterprises under the ministry of transport before becoming a 100% subsidiary of China Communications Construction Company (CCCC) in 2006, one of the Fortune 500. Through 60 years' development, SHEC has evolved into a large construction enterprise with a diverse portfolio integrating design, construction, R&D and capital operation. Our core competence is infrastructure construction, mainly the construction of roads, bridges, ports, channels and municipal works. Our products are present not only in China's 29 provinces and municipalities, but also in Southeast Asia, South Asia, the Middle East and Europe.
Related:
Hubei-made infrastructure projects along "Belt and Road"
Hubei enterprises go global to drive international production capacity cooperation
Hubei's freight development under "Belt and Road" Initiative
(hubei.gov.cn by Ruan Xinqi)