Famous domestic and foreign carmakers in Wuhan
Source: hubei.gov.cn 04/13/2016 04:04:43
【Editor's note】: Till now, Wuhan, capital of central China's Hubei province, has a batch of famous carmakers from home and abroad as well as more than 400 auto parts companies, including half of the world's top 20 like Faurecia, Valeo, Cummins, Hutchinson, etc.
1. Dongfeng Motor Corporation
Country: China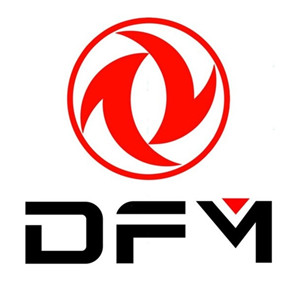 Dongfeng Motor Corporation (its predecessor, the Second Automotive Works) was established in 1969 and it is one of the largest mainstay SEOs in the PRC.. Its headquarter is now located in Wuhan—the capital city Hubei Province in Central China, known as "the thoroughfare to nine provinces", with its major production facilities distributed in Shiyan, Xiangyang, Wuhan and Guangzhou. DFM has a wide coverage of business scope, engaged in the manufacture, sales and R&D of whole serial commercial vehicles, passenger vehicles, auto parts and components, vehicle manufacturing equipments and auto related business.
Website: http://www.dfmc.com.cn/info/introduce_en.aspx
Related News:
Dongfeng Commercial Vehicle Co., Ltd established
Dongfeng jumps into front seat
2. Peugeot
Country: France
Peugeot is a French cars brand, part of PSA Peugeot Citron. The family business that preceded the current Peugeot company was founded in 1810,and manufactured coffee mills and bicycles. On 20 November 1858, ?mile Peugeot applied for the lion trademark. Armand Peugeot built the company's first car, an unreliable steam tricycle, in collaboration with Leon Serpollet in 1889; this was followed in 1890 by an internal combustion car with a Panhard-Daimler engine. Due to family discord, Armand Peugeot in 1896 founded the Société des Automobiles Peugeot. Peugeot has received many international awards for its vehicles, including four European Car of the Year awards. In 2013 and 2014, Peugeot ranked the second lowest for average CO2 emissions among generalist brands in Europe, the Renault car maker group being ranked first, with 114.9g CO2/km.Peugeot is known as a very reliable brand, citing how its 1950s and 1960s models are still running in Africa and Cuba in the 2010s, where Peugeot is called "the lion".
Website: http://www.peugeot.com/en
3. Citroen
Country: France
Citron is a major French automobile manufacturer, part of the PSA Peugeot Citro?n group since 1976. Founded in 1919 by French industrialist André-Gustave Citron (1878-1935). Citron has a successful history in motorsport, and is the only automobile manufacturer to have won three different official championships from the International Automobile Federation: the World Rally Raid Championship the World Rally Championship and the World Touring Car Championship. Citron has been selling vehicles in China since 1984, and it represents a major market for the brand today, largely via the Dongfeng Peugeot-Citron joint venture. In 2014, when PSA Peugeot Citro?n ran into severe financial difficulties, the Dongfeng Motor Corporation took an ownership stake.
Website: http://www.citroen.com/en
4. SAIC Motor
Country: China
SAIC Motor Corporation Limited (SAIC Motor) is the largest auto company on China's A-share market (Stock Code: 600104), and has a total equity of 11 billion shares. SAIC Motor's business covers the research, production and vehicle sales of both passenger cars and commercial vehicles. It also covers components including engines, gearboxes, powertrains, chassis, interior and exterior and miscellaneous electronic components, and logistics, vehicle telematics, second-hand vehicle transactions and auto finance services. SAIC's affiliated vehicle companies include Morris Garages, SAIC MAXUS, SAIC Volkswagen, SAIC-GM, Shanghai General Motors Wuling (SGMW), NAVECO, SAIC-IVECO Hongyan and Shanghai Sunwin Bus Corp (SUNWIN).
Website: http://www.saicgroup.com/english/index.shtml
5. Renault
Country: France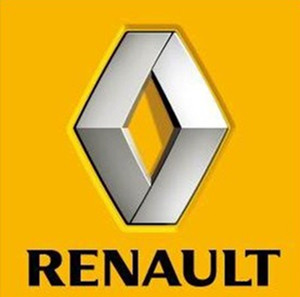 Groupe Renaultis a French multinational automobile manufacturer established in 1899. The company produces a range of cars and vans, and in the past has manufactured trucks, tractors, tanks, buses/coaches and autorail vehicles. According to the Organisation Internationale des Constructeurs d'Automobiles, in 2013 Renault was the eleventh biggest automaker in the world by production volume,with 50.5% of sales coming outside of Europe. The Renault-Nissan Alliance is the fourth-largest automotive group.
Website: http://www.renault.fr/
Related News:
6.General Motors
Country: U.S.
General Motors Company, commonly known as GM, is an American multinational corporation headquartered in Detroit, Michigan that designs, manufactures, markets and distributes vehicles and vehicle parts and sells financial services. General Motors produces vehicles in 37 countries under ten brands: Chevrolet, Buick, GMC, Cadillac, Opel, Holden, Vauxhall, Wuling, Baojun, Jie Fang, UzDaewoo.It has a number of joint-ventures, including Shanghai GM, SAIC-GM-Wuling and FAW-GM in China.
Website: http://www.saic-gm.com/www/
7. Honda
Country: Japan
Honda Motor Co., Ltd. is a Japanese public multinational corporation primarily known as a manufacturer of automobiles, motorcycles and power equipment.Honda has been the world's largest motorcycle manufacturer since 1959, as well as the world's largest manufacturer of internal combustion engines measured by volume, producing more than 14 million internal combustion engines each year. Honda became the second-largest Japanese automobile manufacturer in 2001. Honda was the eighth largest automobile manufacturer in the world behind General Motors, Volkswagen Group, Toyota, Hyundai Motor Group, Ford, Nissan, and PSA Peugeot Citro?n in 2011.
Website: http://www.honda.com.cn/funtec/
Related:Honda joins hands with Dongfeng to introduce six new models
The joint ventures by the above companies in Wuhan
1. Dongfeng Peugeot Citroen Automobile Co.,Ltd (DPCA)
Dongfeng Peugeot-Citroen Automobile Limited (DPCA) is a joint venture between the Dongfeng Motor Corporation and the French PSA Peugeot Citroen. Based in Wuhan, capital of Hubei province, it manufactures Peugeot and Citro?n models for sale in China.[2] Imported models are also sold although by a separate, wholly PSA-owned subsidiary, Peugeot Citroen (China) Automotive Trade Co Ltd.
In 2014, Dongfeng Peugeot-Citroen increased its sales by 30% in an overall market growth of 11% and sold 734,000 cars.
Dongfeng Citroen cars ranked highest in a 2014 customer satisfaction survey by JD Power in China.
Citro?n and Peugeot brought to China their philosophy of education partnership and charity, as well as at university than at primary school.
Production bases and facilities
The joint venture has three production bases one in Wuhan and two in Hubei province.
In July 2014, DPCA revealed it was building a fourth factory in China, in Chengdu, Sichuan province. The new plant, scheduled to open in late 2016, was to have a capacity of producing 300,000 sport-utility and multipurpose vehicles a year.
PSA Peugeot Citroen has two facilities in Shanghai-an R&D center (China Tech Center) and a design center.
In 2013, PSA sold 557,000 cars in China. In 2014, it was targeting 750,000 sales.
Website: http://www.dpca.com.cn/dpca/publish/index.html
Related News:
Dongfeng Peugeot Citroen shakes up middle management
Dongfeng, PSA Peugeot Citroen to deepen cooperation
Related News:
2. SAIC-GM Wuhan Manufacturing Base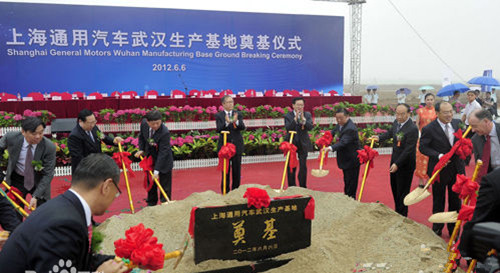 Shanghai GM broke ground on June 6, 2012 for its first manufacturing facility in the city of Wuhan, Hubei, in central China. Shanghai GM Wuhan Branch, located in the city's Jiangxia district, represents investment of RMB 7 billion.
The facility has an annual production capacity of 300,000 vehicles. Shanghai GM Wuhan is capable of producing small and medium-size passenger cars, SUVs and new energy vehicles. Construction is scheduled for completion and production set to begin in 2014.
Shanghai GM Wuhan occupies an area of 2.32 square kilometers. It includes press, body, paint and general assembly shops as well as support facilities. The plant adopts GM's advanced global manufacturing processes along with world-class production and management systems from Shanghai GM.
Shanghai GM Wuhan is to become the fourth manufacturing base for Shanghai GM, joining its original Jinqiao facility in Shanghai; Shanghai GM Dong Yue Motors and Shanghai GM Dong Yue Automotive Powertrain in Yantai, Shandong; and Shanghai GM (Shenyang) Norsom Motors in Shenyang, Liaoning.
Shanghai GM is a joint venture between GM and Shanghai Automotive Industry Corp. Group (SAIC) that was formed in June 1997. It builds, imports and sells a comprehensive range of Buick, Cadillac and Chevrolet products. It is fully supported by a network of sales, aftersales and parts centers. In 2011, Shanghai GM sold a record 1,200,355 vehicles in China. The Buick Excelle from Shanghai GM was China's best-selling passenger vehicle in 2011. (Source: GM Media)
3. Dongfeng Renault
Dongfeng Renault Automobile Company (DRAC) or Dongfeng Renault is an equally owned Chinese joint venture between car manufacturers Dongfeng and Renault aimed to produce and sell Renault-badged vehicles, established in 2013. The joint venture emerged from Sanjiang Renault, a previous partnership between Renault and Sanjiang established in 1993. It is based in Hubei.
Related News:
Dongfeng Renault plans local EV model
Dongfeng and Renault set up joint venture
4. Dongfeng Honda
Dongfeng Honda Automobile Co., Ltd. (东风本田汽车有限公司) is an automobile manufacturing company headquartered in Wuhan, China and a 50:50 joint-venture between Dongfeng Motor Corporation and Honda Motor Company. It currently produces the Honda Civic, Honda CR-V and Honda Spirior for sale in China. ongfeng Honda was established in July 2003 with a registered capital of US$200 million.Dongfeng Honda began automobile production in April 2004, with the Honda CR-V sport utility vehicle initially its only product. In February 2006 Dongfeng Honda completed a 2.8 billion yuan (US$ 340 million) expansion of its production facilities, quadrupling production capacity to 120,000 units. In May 2008 Dongfeng Honda announced plans to double production capacity to 240,000 vehicles a year, in an investment of 10 billion yen (US$95.5 million).
Dongfeng Honda has an assembly plant in Wuhan, Hubei. The plant size is around 181,000 square metres and has a total work force of around 2,800. The plant includes welding, painting and vehicle testing facilities. Dongfeng Honda also has an engine production plant.
Related News: Dongfeng Honda second factory goes into operation in Wuhan