Wudang wushu gains popularity among Belt and Road countries
Source: hubei.gov.cn 04/05/2016 04:04:49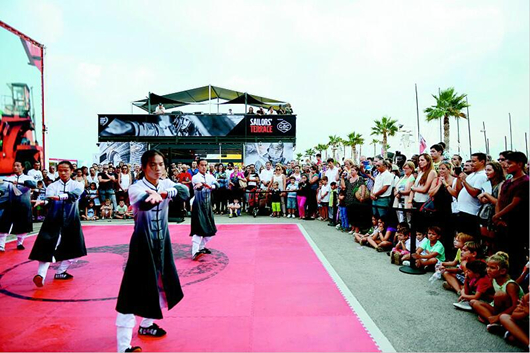 Wudang wushu was performed at the Volvo Ocean Race. (photo by Ke Fei)
During the past Qingming Festival, among the visitors in Wudang Mountain, there were many foreigners learning Taijiquan as well as Wudang culture there. In the meanwhile, two Wudang wushu masters were teaching nearly 100 Russian students in Moscow.
Based on the Moscow branch of Wudang Wushu Association, Hubei is planning to enhance opening up by establishing branches in countries along the Belt and Road Initiative, including Azerbaijan, Kazakhstan, Finland, etc.
The popularity of Wudang wushu overseas owes to Hubei's successful cultural exchange with foreign countries. In 2014, Hubei and Moscow carried out a series of cultural exchanges, and Wudang wushu was an important part. from March to December 2014, Wudang wushu was taught in Chinese Culture Center in Moscow and hundreds of Russian students received training of Taijiquan, Taiji sword, etc. In the same year, at the invitation of "Spasskaya Tower" International Military Music Festival, Wudang wushu was performed for 17 times at Moscow's Red Square. And the Moscow branch of Wudang Wushu Association was founded in the end of 2014.
From September 2014 to June 2015, over 80 Wudang wushu masters performed at Volvo Ocean Race in ten ports of 10 countries such as Abu Dhabi, Auckland in New Zealand, Lisbon in Portugal and Lorient in France.
At present, surrounding countries like Japan also invites Wudang wushu masters to teach in Nagasaki. And since 2015, Japan's Nagasaki Taijiquan Association has visited Wudang Mountain for systematic training for three times.
Related:
Wudang wushu popular around world
Wushu, which originated in the Wudang Mountains, located in Shiyan, Hubei province, is popular around the world and attracts many foreigners to study in Wudang every year. >>more
(hubei.gov.cn by Mao Huifang)