"Sino-Pakistan Economic Corridor" signs the biggest transportation project
Source: hubei.gov.cn 12/24/2015 03:12:50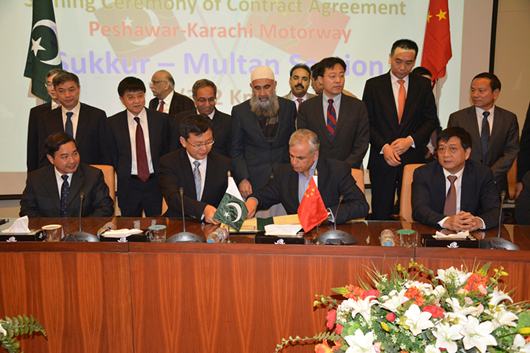 China Construction Third Engineering Bureau Co., Ltd. and China State Construction Engineering Corporation (CSCEC) signed an EPC contract with Pakistan Highway Administration to undertake the construction of Karachi-Lahore Motorway (Sukkur-Multan section) in Islamabad on December 22, 2015.
The contract, with a total amount of 2.89 billion U.S. dollars, marked the substantive results of CSCEC's effort to boost the "Road and Belt" project.
Karachi-Lahore Motorway, which is to link the largest port city of Pakistan with the country's second largest city, will stretch for 1152 km and serve as an important economic artery and national defense thoroughfare. The Sukkur-Multan section is 392 km in length, and is designed to have three lanes in each direction with a speed of 120 km per hour. It is the biggest overseas project of CSCEC, and the construction will last for 36 months.
As an important part of "Sino-Pakistan Economic Corridor", the project will greatly improve transportation situation in Pakistan, and play a positive role in Sino-Pakistan connectivity.
China Construction Third Engineering Bureau Co., Ltd., headquartered in Wuhan, has undertaken a batch of influential overseas projects in recent 10 years, including the new international airport of Islamabad, Sagittarius Hotel, Lahore Software Science Park, etc.
Related:
"Sino-Pakistan Economic Corridor" launches first project
Recently, China First Metallurgical Group Co., Ltd. signed an EPC contract with Zonergy Company to undertake the project of a 300-megawatt photovoltaic power station in Punjab of Pakistan, the largest single photovoltaic power station in the world. >>more
(hubei.gov.cn by Mao Huifang)