Wuhan to apply for "City of Design" in 2016
Source: hubei.gov.cn 12/17/2015 04:12:18
Themed with "Great Lore, Great City", the 3rd Wuhan Design Biennale kicked off in Wuhan on Dec. 8, and will last till Dec. 21, 2015.
It is hosted by the People's Government of Wuhan Municipality, organized by Wuhan Urban and Rural Construction Committee and Wuhan Engineering Design Industry Alliance of China, etc., and supported by the China Exploration and Design Association. The Biennale consists of design exhibition, forum and integrative activities with three exhibition venues, namely, the Star of Optical Valley, CSCEC in East Lake High-Tech Development Zone, Tanhualin Campus of Hubei Institute of Fine Arts and Central-South Architectural Design Institute.
During the 3rd Wuhan Design Biennale, it was announced that Wuhan would apply for the UNESCO "City of Design" in 2016, and the biennale will be a name card for the initiative.
Related: The 3rd Wuhan Design Biennale grandly opens
What is "City of Design"?
"City of Design" is one of the 7 categories of the Creative Cities Network, which is a project under the patronage of UNESCO.
The UNESCO Creative Cities Network (UCCN) was created in 2004 to promote cooperation with and among cities that have identified creativity as a strategic factor for sustainable urban development. The UCCN is currently formed by 116 members covering 7 creative fields: Crafts & Folk Art, Design, Film, Gastronomy, Literature, Music and Media Arts. The 116 cities which currently make up this network work together towards a common objective: placing creativity and cultural industries at the heart of their development plans at the local level and cooperating actively at the international level.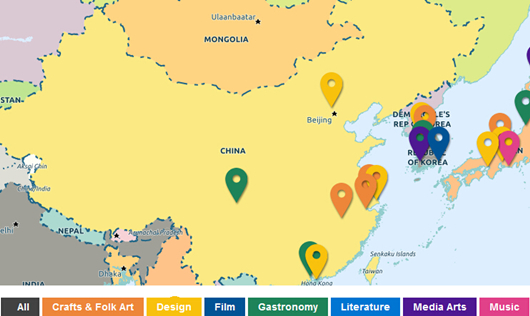 At present, 16 cities around the world have joined the network as "City of Design", including Beijing, Shanghai and Shenzhen in China.
Wuhan's efforts to join the UCCN
-In 2009, Wuhan put forward the idea to apply for the "City of Design";
-In 2010, Wuhan Engineering Design Industry Alliance of China was established;
-In 2011, the First Wuhan Design Biennale was held;
-In 2015, the work to apply for the "City of Design" was listed by Wuhan Municipal Government as an important measure to build Wuhan into China's key city.
Wuhan's strength in design
According to Lin Wenshu, director of Wuhan Urban and Rural Construction Committee, Wuhan rivals Beijing and Shanghai in terms of investigation and design strength. The city in central China boasts world's top high-speed rail, bridge and dam design institutions. Its works include world's largest water-control project, China's first high speed railway, highway-railway combined bridge with the largest span in the world, etc.
As a famous cultural city with thousands of years' history, Wuhan also has a large batch of excellent projects with reputation at home and abroad, said Wang Shuping, vice chairman of China Exploration & Design Association, for example, the Former Address of Wuchang Uprising Military Government, Wuhan Yangtze River Bridge, Yellow Crane Tower, etc. Besides, the city is also a critical science and education base in China with a great number of national scientific research institutions.
At present, there are 468 investigation and design institutions with over 70,000 employees, 11 academicians of the Chinese Academy of Engineering (CAE), and 34 masters of investigation and design in Wuhan. In 2014, the investigation and design industry in Wuhan realized an annual output value of 86 billion Yuan, ranking 4th nationwide.
Related: Hubei adds eight academicians
Examples of Wuhan Design
Click each picture for more information
Related: List of top 10 architectures in Wuhan released
The title of "City of Design" will bound to help Wuhan design expand international markets, attract foreign designing enterprises to Wuhan, and enhance the core competiveness of Wuhan design.
(hubei.gov.cn by Mao Huifang)