China-Europe freight train links Wuhan with Moscow
Source: hubei.gov.cn 10/26/2015 09:10:05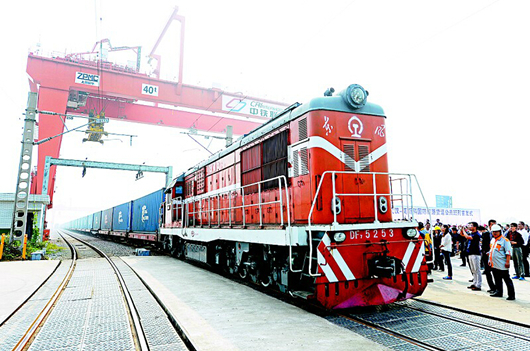 photo by Li Xi
A China-Europe (Wuhan) freight train (aka."Wuhan-Xinjiang-Europe freight train") headed to Moscow of Russia departed from Wuhan, capital of central China's Hubei Province, on Oct. 24, 2015.
Fully loaded with machine parts, electronics and Wuhan-made clothes, it was the first Wuhan-Russia freight train. The train set out from Wujiashan Railway Container Center Station and will pass customs at Manzhouli. It will arrive at Kuntsevo Railway Station of Moscow after traveling over 9,700 km, and the whole journey will take about 12 days. The train will form bilateral flow with the existing "Russia-Manzhouli-Wuhan" timber train.
During the opening ceremony of Wuhan-Russia freight train, a cooperation agreement was signed between Wuhan Harbor & Channel Development Group and Dongxihu District to construct a 30-square km Wuhan-Europe international logistics park.
According to Wuhan Railway Administration, at present, Wuhan has opened trains to Pardubice of Czech Republic, Gorzow of Poland, etc., as well as bilateral trains to Hamburg and Duisburg of Germany.
A total of 115 freight trains have run between Wuhan and Europe (68 trains setting out from Wuhan and 47 headed towards Wuhan), carrying 10,336 containers with a total value exceeding 500 million U.S. dollars, and ranking No.2 nationwide. The cargo on the return journey to Wuhan ranks No.1 nationwide. At present, goods could be transported to over 20 European and Asian countries through China-Europe (Wuhan) freight train.
Related:
First Wuhan-Belarus freight train launched
A train linking Wuhan with Minsk of Belarus, which is the 60th China-Europe (Wuhan) freight train in 2015 and the 1st train running between Wuhan and Belarus, set out from Wujiashan Station in Wuhan, capital of central China's Hubei Province, on Sept. 24, 2015. >>more
(hubei.gov.cn by Mao Huifang)