2015 Hubei-India trade and investment forum held
Source: hubei.gov.cn 08/20/2015 05:08:45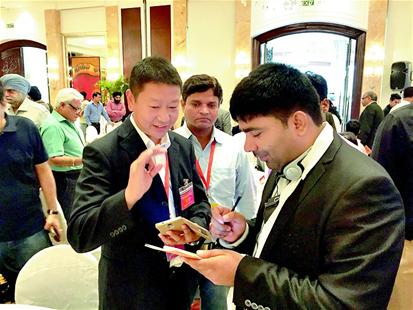 photo by Liu Tianzong
2015 Hubei-India trade and investment forum, hosted by Hubei provincial government and Hubei CCPIT, was held in New Delhi, India, on August 19, 2015.
At the forum, 17 Hubei companies, like Huangshi Dongbei Electric Group, Co.,Ltd and Jingmen Xingan Pearly Machineries Co.,Ltd, signed manufacturing and marketing contracts or intent protocols with local companies, which valued 0.127 billion U.S.dollars.
Recently, steady development was seen both in Sino - Indian relationship and bilateral economic and trade cooperation. Hubei enterprises have also accessed to the Indian market.
The Minister for Education and Skills Development of Uttar Pradesh which is known as the largest province in the world with a total population of 0.19 billion people, said that Hubei and Uttar Pradesh could unite to realize common development. In addition, China Town could be built up for the Chinese pioneers in India, to expand bilateral exchanges from trade to culture.
Related: Hubei strikes out for the international market
(hubei.gov.cn by Ruan Xinqi)