Jackie Chan is dean of his own film academy
Source: Chinadaily 05/22/2015 03:05:51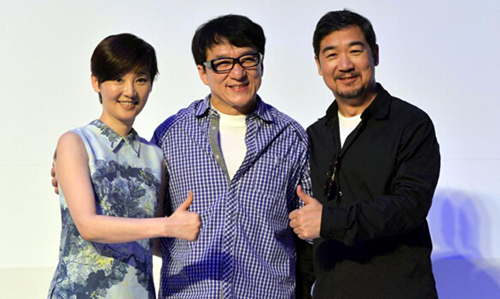 Action star Jackie Chan (center), actress Xu Fan (left) and actor Zhang Guoli attend the launch of the Jackie Chan Film and Television Academy in Wuhan, Hubei province on May 20.
China's kung fu superstar Jackie Chan is to serve as dean of his first college, the Film and Television Academy in Wuhan.
According to Sina News, the Jackie Chan Film and Television Academy of the Wuhan Institute of Design and Sciences was officially launched on May 20.
Chan said he has finally completed his life-long dream of establishing his own school. The actor and director also said he hoped to use his own as well as his peers' experiences in cinema and television to teach the next generation of actors and filmmakers.
Chan appointed his friends, including actor Zhang Guoli, actress Li Bingbing, director Feng Xiaogang and his wife and actress Xu Fan to act as visiting professors of his new school.
He also expressed willingness to employ more professional film workers to teach students not only in classrooms but through hands-on experience on the set. Exchange programs with foreign academies are also planned.
This is the first time Jackie Chan has taken on the role of dean, and also the first time he's collaborated with a university on the Chinese mainland.
To date, the institute offers undergraduate programs in animation, performance and digital media.