Fresenius Kabi (Wuhan) put into trial-production
Source: hubei.gov.cn 04/24/2015 04:04:03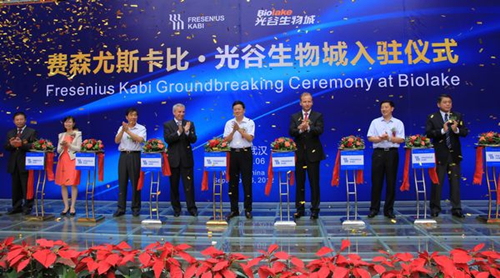 German pharmaceutical giant Fresenius Kabi settled in Wuhan Biolake on September 6, 2012, marking the first production base of a world top 500 pharmaceutical company in central China.
The medical facility of German pharmaceutical giant Fresenius Kabi in Wuhan Biolake finished its trial production of first batch antineoplastic injection on April 23, 2015.
The facility could be officially put into production as early as September after national drug examination and approval. It will produce three million bottles of antineoplastic injection annually during the first phase, with an annual output value of one billion Yuan (US$ 161.4 million).
This is the first medical facility with production lines of the eight world's top 500 pharmaceutical companies in Wuhan Biolake. With a construction investment of 200 million Yuan (US$ 32.28 million), it's also the only antineoplastic production base of Fresenius Kabi in China.
It's so far the most advanced medical production line in China. Its products will not only be available in Chinese market, but also be exported to Europe and America. The annual output is expected to reach eight million in the future, with production value of three billion Yuan (US$ 484.2 million).
Related:
Guo Shenglian meets with Fresenius Kabi Group senior leader
Guo Shenglian, vice governor of central China's Hubei Province, met with Mats Henriksson, the chairman of Fresenius Kabi Group's global board, on April 23, in Wuhan, capital city of Hubei, and held a talk on the cooperation of biomedical industry, local media reported. >>more
(hubei.gov.cn by Mao Huifang)