Michael Craig-Martin 2015 China Tour Exhibition (Wuhan) to kick off
Source: hubei.gov.cn 04/21/2015 11:04:40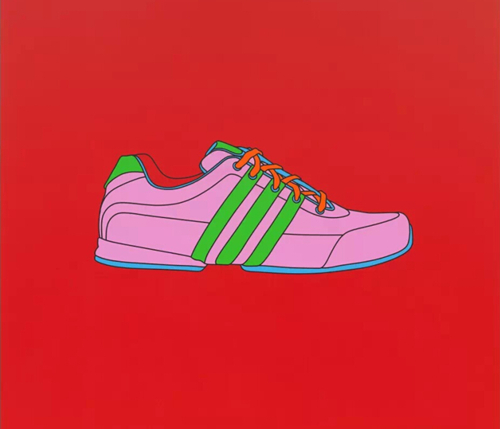 MICHAEL CRAIG-MARTIN
Untitled (sport shoe), 2014
Acrylic on aluminium
78 3/4 x 78 3/4 inches
200 x 200 cm (unframed)
Photo by Mike Bruce
Now - Michael Craig-Martin 2015 China Tour Exhibition (Wuhan) is to be unveiled in Hubei Museum of Art on April 23, 2015.
As part of the 2015 UK-China Year of Cultural Exchange, the exhibition will mark a debut of Michael Craig-Martin (1941- ), a leading figure of British contemporary scene, in mainland China. The second stop of the exhibition is organized by Hubei Museum of Art and the Cultural and Education Section of British Consulate-General after it was first successfully exhibited in Shanghai. 50 paintings will be put on display.
Michael Craig-Martin is a representative of British minimalism artists and an edgy senior. He set a distinctive artistic style by abstracting objects. Through his abstract of visually narrates and generalization of everyday objects, we could find the production of our times and see the renewal of design conception with the development of society.
Craig-Martin's arrival in China is a sort of home coming for the Dublin-born artist, who has a indivisible lineage with China and Wuhan: his great-grandmother was Chinese, and his great-grandfather used to work in Wuhan Customs, which makes his tour exhibition in China all the more intriguing and this key project of 2015 UK-China Year of Cultural Exchange all the more special and meaningful.
2015 marks the first ever UK-China Year of Cultural Exchange, with the very best of UK culture and Chinese culture showcased in China and UK. The Year comprises of two "seasons" of culture - a UK season in China from March 2015 to June 2015 and a China season in the UK from July 2015 to October 2015.
Related:
Exhibition held by Wuhan and Manchester artists opens
To celebrate the establishment of British Consulate-General in Wuhan, the artworks of 8 artists from Manchester and Wuhan were displayed in K11 Art Village in Dongxihu district of Wuhan, capital of central China's Hubei Province, March 26, 2015. >>more