1st train of Wuhan Metro Line 3 arrives in Wuhan
Source: hubei.gov.cn 03/26/2015 05:03:38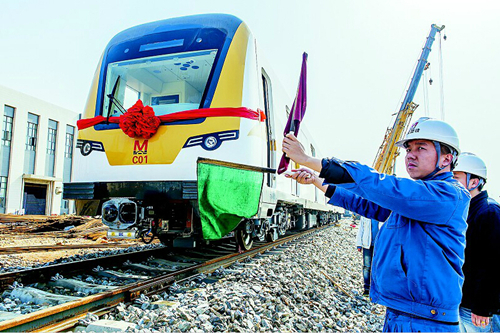 The train was transported to Wuhan from Changchun on March 25, 2015. (photo by Mei Tao)
Photo by Zou Bin
The first train of Wuhan Metro Line 3 arrived in Wuhan on March 25, and will start field debugging soon.
The train takes the color of "Guiyuan Gold", a color inspired by Guiyuan Temple on the path of Wuhan Metro Line 3. Equipped with four motor cars, two trail cars and six unit cars, each train has a capacity of 2,000 people and is able to run at a top speed of 80km/h.
The train of Wuhan Metro Line 3 improves the passenger experience based on that of Line 2 and Line 4. The air conditioner on the train adopts the side exhaust system, the first of its kind in China's metro system.
The 1st phase of Wuhan Metro Line 3, which will link Sanjintan with Zhuanyang Road, will be the first subway line cross Han River. It is scheduled to be put into operation by the end of 2015.
Related:
Cherry blossom-themed metro in Wuhan