China's first P4 laboratory opens in Wuhan
Source: hubei.gov.cn 02/02/2015 08:02:05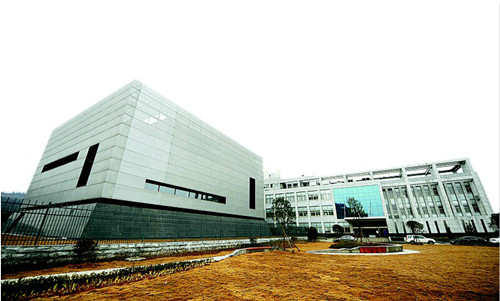 China's first laboratory for studies on highly contagious and fatal diseases was inaugurated in Wuhan, capital city of Hubei province on January 31, enabling scientists to research the live Ebola virus at home. (photo by Sun Wen)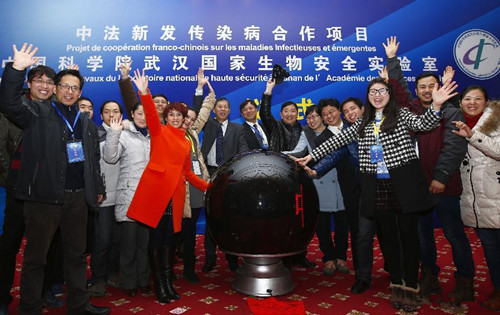 Staff members celebrated during the completion ceremony of China's first high level biosafety laboratory in Wuhan, capital of central China's Hubei Province, Jan. 31, 2015.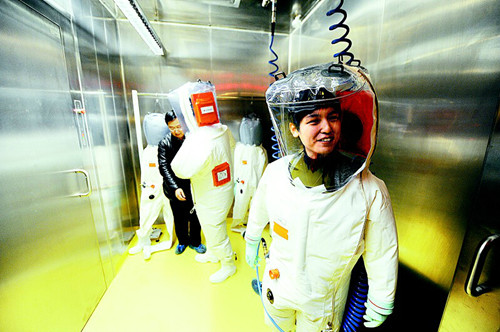 Researcher has to put on a protective suit before entering the newly-completed P4 lab in Wuhan. (photo by Sun Wen)
China completed its first high level biosafety laboratory in Wuhan on January 31 after more than a decade of construction.
The lab, based in Wuhan, capital of central Hubei Province, will be used to study class four pathogens (P4), which refer to the most virulent viruses that pose a high risk of aerosol-transmitted person-to-person infections.
Launched after the outbreak of Severe Acute Respiratory Syndrome (SARS) in 2003, the lab was jointly built by the Chinese Academy of Sciences (CAS) and the Wuhan municipal government. Most of its technology and equipment was imported from France , which cooperated closely with China in its design.
The Wuhan P4 lab enables China to join just a handful of developed countries operating such facilities to help handle the most virulent pathogens.
The lab is important for China's public health defense system, said CAS president Bai Chunli. "It will play a crucial role in enhancing the country's ability to prevent and control new epidemics as well as to develop related vaccines," he said.
The facility, designed with the highest-level biosafety standards, is an essential platform for research and development against highly contagious and infectious diseases such as Ebola.
"The laboratory filled the domestic void, providing conditions for research on the Ebola virus, and brought the frontier of fighting the virus from Africa to domestic laboratories," said Li Bin, minister of the National Health and Family Planning Commission.
(hubei.gov.cn)