Hubei Cherry blossoms timetable
Source: hubei.gov.cn 03/18/2014 05:03:07
Cherry trees can be classified into early cherry, mid cherry, and late cherry in terms of blossom season and variety. The time between the earliest and latest cherry blossoms could be two months.
From early spring to early summer, Hubei has many places for cherry blossoms watching to offer. The information below could be used as reference.
Early cherry blossoms
Blossom season: early March to mid-March
1. Wuhan University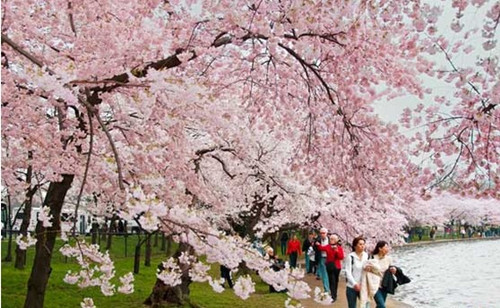 The eary cherry trees at the Plum Park of Wuhan University will bloom in March, one month earlier than that in Cherry Park.
2. The Cherry Park of Moshan Hill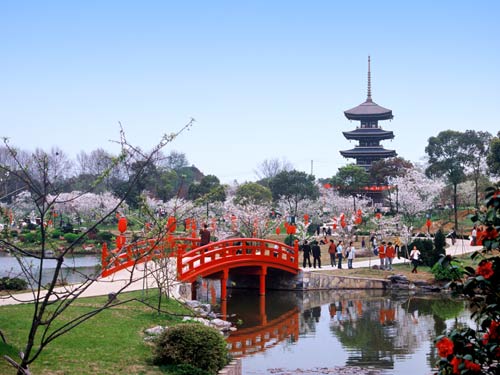 Being the most beautiful site of the East Lake in spring, Cherry Blossom of East Lake is as popular as the cherry blossom in Wuhan University. It attracts tens of thousands of people during early spring every year. The place has nearly 500 cherry trees of 18 varieties. The blossom season could last for 15 to 20 days.
Transport: take Bus 401, 402, 643 to get off at Yinghuayuan Stop
3. Qingshan Park
This place has cherry trees of nearly one thousand, including different varieties as P.majestica, Oshima cherry blossoms, somiyoshino, and P.serrulata Lindl.
Transport: take Bus 308, 215, 7 to get off at Honggangcheng Stop
Mid cherry blossoms
Blossom season: late March to early April
1. Huandiqiao Town, Daye, Huangshi City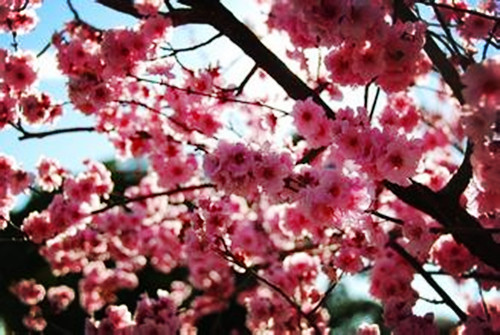 This place has 2000 mid cherry trees which is expected to bloom in late March. Till then, the cherry blossoms festival will be held.
Transport: drive to Daye City, and continue to drive along 106 State Road to Luzhangshan Avenue, Mulan Road, Xuefu Road, Huanqiao Avenue,
2. Yingtaogou Village, Yun County, Shiyan City
Yingtaogou Village boasts of old cherry trees and mid-and-late cherry trees of 2000 mu. A cherry blossoms festival will be held here from late March to early April.
Transport: Yingtaogou Village is located at the junction of Shiyan City and Yun County.
3. Wuhan University
Wuhan University, which is located in Wuhan, capital of central China's Hubei Province, is a comprehensive and key national university directly under the administration of the Ministry of Education. It is also one of the "211 Project" and "985 Project" universities, making it one of the leading institutions for higher education in China.
In March or April of each year, a cherry blossom festival will be held, attracting a large number of visitors to swarm into the campus of WHU to appreciate cherry blossom.
In 2013, WHU will implement new management approaches during the cherry blossom festival, namely, put more focus on the protection of the teachers and students' teaching and living order, impose strict limitations on the visitors and privatize the teaching and living resources. However, the elderly aged over 65, soldiers, disabled and the alumni are still admitted for free.
Transport: take Bus 317 413 515 519 552 564 572 587 591 608 724 806 to get off at Luojiashan Stop. The ticket price is 20 yuan per person.
4. Yangtze River Beach at Hankou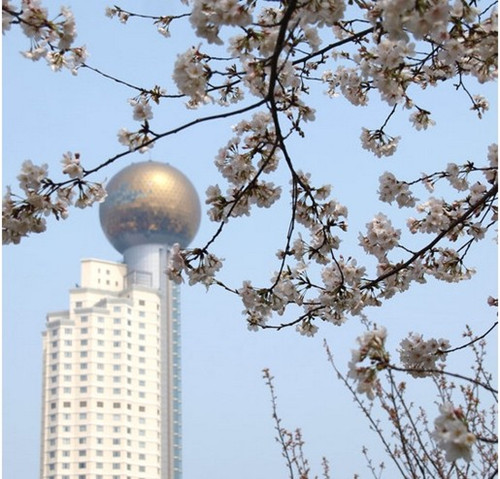 The cherry trees is gathered at the section of Tianjinlu Gateway to Yuehan Pier of the Yangtze River Beach.
Transport: take Bus 68, 402, 523, 527, 579, 601, 603, 606, 708, 721.
5. Jiefang Park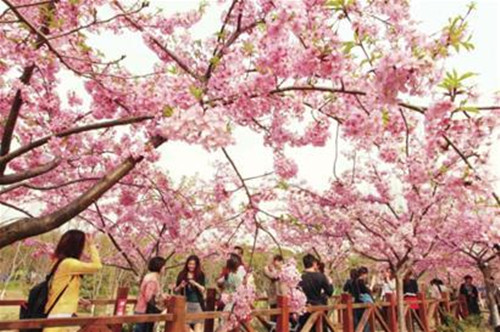 Jiefang Park, whose predecessor was Western Trader Turf for foreign traders from Britain, France, Russia, Germany, Japan and Belgium, is located at northern part of Jiefang Avenue, Hankou. It was built from 1953 to 1955 and opened to visitors on May 16,1955 which is the sixth anniversary of Wuhan's liberation. That's why it is called 'Jiefang (Liberation) Park'. As one of the biggest natural ecological park it covers 460,000 square meters including 76,000 square meters. There are different garden scenes such as plum blossom hill, sweet-scented osmanthus hill, cherry blossom hill, miniascape garden and Chinese famous tower garden and so on.
Transpotation: take bus 509 516 524 543 719 724 729 805 808 24 to get off at Jiefang Gongyuan Road Stop
6. Qingchuan Pavilion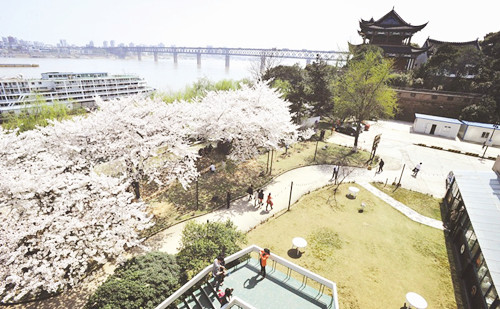 Qingchuan Pavilion, also known as the Qingchuan Building, was originally established during the Ming Dynasty between 1522 and 1567. Although it is not an important historical spot, the pavilion has an impressive geographical location and the ingenious structure of the building has been praised by numerous literary figures over the years.
It is located at the east foot of Tortoise Hill on the north side of the Yangtze River, facing the Yellow Crane Tower.
Transport: take Bus 108,13, 206, 531, 532 or 559 to get off at Qingchuange Stop
7. Dijiao Park
Dijiao Park is the first park with Jiangnan garden style in Wuhan.
It was opened as a nursery garden in 1956 and was chenged into park in 1999. And in April of 2001, it was named as Dijiao Park. This park was opened to the public for free during the National Day holiday in 2004.
The park covers an area of more than 20 hectares (308 mu), among which, the water area is of 3.2 hectares, accounting for 16 per cent of the whole.
The park has cherry trees of over 800.
Transport: take Bus 211, 212, 509, 412 or 717 to get off at Dijiao Stop.
Late cherry blossoms
Blossom season: mid-and-late April to early May
1. Qingliang Stockaded Village and Jinligou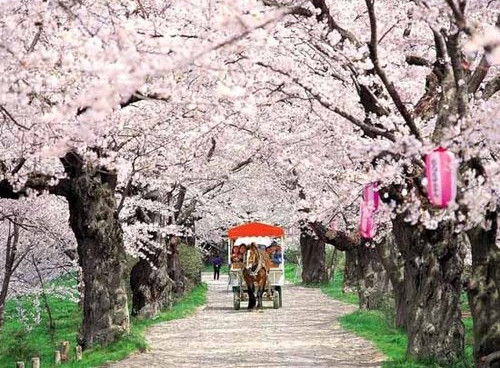 The two places have 110,000 Chinese cherry trees, covering an area of over 3,200 mu, which can take the leading place in Wuhan, or even in China.
The late cherry trees here bloom around on April 5, lasting for 20 days or so.
Transport: Wuhan City-Zhuyeshan Hill- Daihuang Expressway-Huangpi City-Changling County-Yaoji Bridge(turn left)-the scenic area(drive as the guideboard)
2. Three Visitors' Cave of Yichang
The cherry trees at Yichang City Xiakou Scenic Area have ten varieties, including the rare pink, red, and green cherry blossoms. The best watching time is from March 25 to April 20. It is free to the public.
Transport: take train from Wuhan to Yichang East, then take Bus 9 to transfer Bus 10, get off at the terminal Three Visitors; Cave Stop
3. Chibi of Xianning City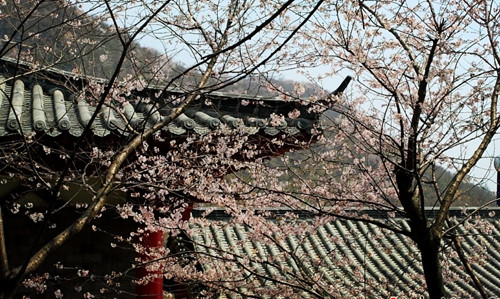 Xianning Chibi Gexianshan Wild Cherry Base has wild cherry trees of 10,000 mu, which bloomed for the first time on April 1.
Transport: Wuhan City- Jinggang'ao Expressway-Quankou-Guantang-Suiyang-Loahuyan-Gexianshan (120km in total).
SEARCH the SITE
Visiting Hubei