Hubei realizes 5.7 billion Yuan in tourist during Spring Festival
Source: hubei.gov.cn 02/07/2014 11:02:19
During the week-long Chinese Lunar Spring Festival holiday (from Jan 31st to Feb 7th), central China's Hubei Province reaped a lot in tourist market.
According to authoritative data, the province received overseas and domestic visitors of 14.1142 million within the seven days, increasing 20.38 per cent year on year. And tourist income totaled 5.702 billion Yuan (about 940.8 million U.S.dollars), with a year-on-year growth of 33.01 per cent.
Self-riving tours accounted for over 70 per cent of the income.
Within the seven-day spring festival, the hot-spring tours in Hubei were very popular. The six hot spring resorts included in statistics like Xianning Hot Spring Resort and Tangchi Hot Spring Resort totally received 99,300 visitors, realizing 16.3741 million yuan (about 2.7 million U.S.dollars).
The skiing tours were also warmed up. Shennongjia Skiing Resort in Hubei east and Jiugongshan Skiing Resort in Hubei west had become the first choices of the visitors from the south and the middle east of China. The two resorts had received 164,900 and 22,800 visitors during the seven days, respectively, up 127.25 per cent and 22.08 per cent.
Related:
Hubei launches 8 new hot spring tourist routes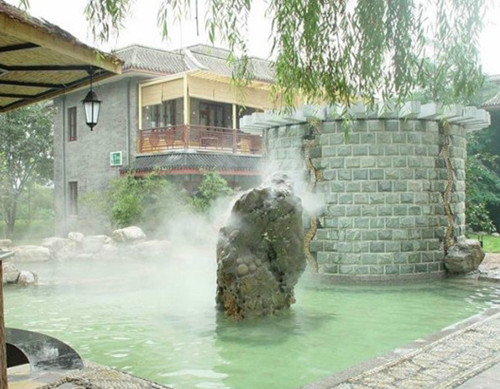 Biguiyuan Hot Spring Village in Xianning, Hubei Province
Qian Yuankun, director of the Hubei Provincial Bureau of Tourism, introduced eight new tourist routes at a Hubei hot spring tourist route promotional event held in Sanjiang Forest Hot Spring in Xianning city, Hubei province, on Jan 2.
The eight routes, which integrate hot springs in different areas with skiing, countryside tours and unique local customs and history, cover the cities of Chibi, Wuhan and Honghu, in addition to Yingshan county and other places in Hubei province. >>more