Hubei to set up technology financial services center in free trade zone
Source: hubei.gov.cn 03/23/2017 05:03:31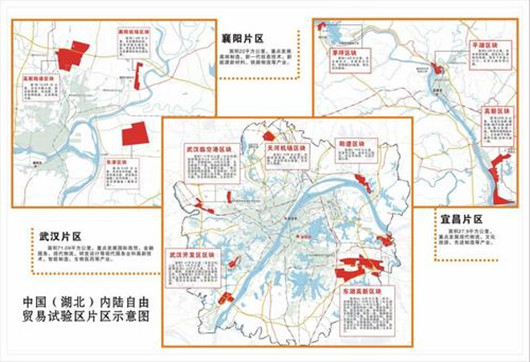 Sketch map of three areas of Hubei Free Trade Zone
On March 9, the Department of Science and Technology of Hubei Province expressed the plan of setting up technology financial services center in each area (Wuhan, Yichang and Xiangyang) of Hubei free trade zone, introducing in institutions in banking and venture capital for the enterprises.
The technology financial services center is a public interest organization with governmental departments taking leadership in its establishment. It serves technological enterprises in credit, legal affairs and guarantee as well as help the enterprises achieve fast-track financing from banking and venture capital institutions.
The Department of Science and Technology of Hubei Province will support the incubators in the three areas to establish angel or venture capital funds. It is expected that a batch of funds will be founded after the free trade zone unveiled.
As introduced, the general office of Hubei Province has officially announced the polices on standards of technology innovation, construction of specialized technological service platform, starting up Angel investment fund, etc, with the aim of giving incentives to the enterprises or incubators.
Related:Hubei submits plan for FTZ
(hubei.gov.cn by Ruan Xinqi)
SEARCH the SITE
Visiting Hubei