Hubei Climate
Source: hubei.gov.cn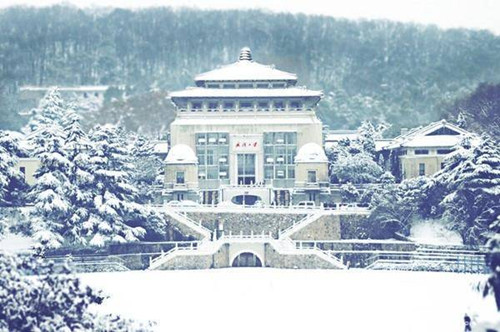 The snow-covered Wuhan University
Situated in South-central China, Hubei Province features a subtropical monsoon climate. The average temperature for a year is about 15° C (59° F). The Province has distinct four seasons with burning hot summer (June, July and August) and chilly winter (December, January and February). The hottest month, July, averaging 27-30°C and the coldest month, January, 1-5°C.
Wuhan, the capital city in Hubei Province, is known as one of the 'four stoves' in China because the torrid climate in summer (there are more than 20 days with the temperature above 35° C or 95° F. The mountainous districts of western Hubei, in particular Shennongjia, with their cooler summers, attract numerous visitors from Wuhan and other lowland cities.
The annual rainfall in Hubei Province is between 800-1600mm on average. Summer is the wettest month in Hubei with 300-700mm in average. Hubei's driest season is Winter, with average rainfall at 30-190mm. The period from mid-June to mid-July is called the plum rain season in Hubei as the rainfall in this time reaches the peek in the year.
SEARCH the SITE
Visiting Hubei