Brief introduction of Hubei
Source: hubei.gov.cn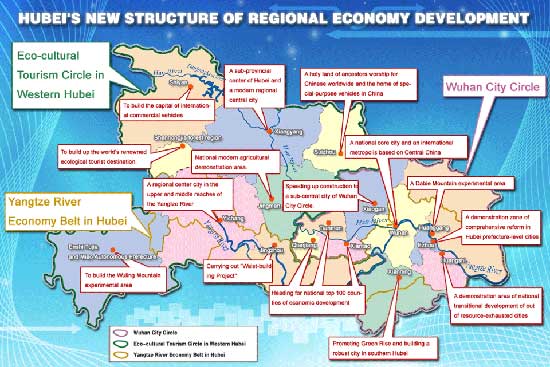 Special: Hubei's New Structure of Regional Economy Development
Hubei Province is located at the central part of the People's Republic of China, with short title of "e". It is rich in agriculture, forestry and hydropower resources. Agriculture and fishery are well developed in Hubei, with such main products like paddy rice, wheat, ramie, cotton, silk, tea, orange, fish, and vegetable oil, the outputs of which are among the top of the country. Its main industries include iron and steel, machinery, power and automobile.
Renowned as the Province of a Thousand Lakes, Hubei abounds in natural, historic and cultural resources. The main places of historic interest and scenic beauty include the Three Gorges of the Yangtze River, the East Lake and the Yellow Crane Tower in Wuhan, ancient Longzhong (a strategic place of importance in ancient time) in Xiangyang City, the Temple of Emperor Yan in Suizhou, the Hometown of Quyuan in Zigui, Wudang Mountain (famous for martial arts), Jiugong Mountain and Shennongjia (a place of primitive forest), etc.
In 2009, the state council of China approved The Plan for facilitating the rise of central China and it has officially, become a national strategy to build Hubei to be an important strategic supporting point for the Rise of central china.
SEARCH the SITE
Visiting Hubei