HOME >> Intangible
Honghu Shell Carving
Source: hubei.gov.cn 01/28/2016 05:01:06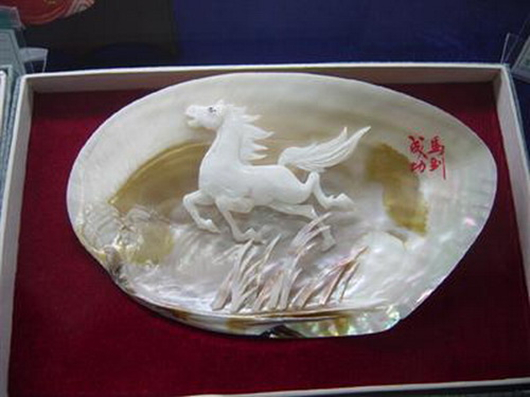 Honghu fresh water shell carving was selected among Hubei's 4th batch of provincial level intangible cultural heritage in 2013.
The Honghu Lake teems with fresh water pearl oyster. Its shell is hard, colorful, fine and sparkling. It is a high-grade processing material. As early as the Qing Dynasty, artists have used the shells to produce various kinds of ornamental buttons which were sold well.
In the 1970s, the skillful craftsmen from Honghu integrated the workmanships of paper cutting, ceramic carving, ivory carving, jade carving, wood carving and innovatively designed shell carving to enhance the quality of products. Shell carving uses high-quality hyriopsis cumingii as the raw material and creates the patterns with novel subject matters by grinding, combining, inlaying, assembling and binding. It integrates sculpture and painting and has vivid pictures and unique shapes. Honghu shell carving have a broad subject matter, including ancient and modern stories, figures in operas, feathers, flowers, bamboos, grass, fruit, trees, pavilions, platforms, and buildings. It has a huge potential for creation and enjoys a strong reputation with customers.
In 1973, the Honghu carving titled, "White Peacock" was hung in the United Nations Headquarters in New York as a gift to the United Nations Headquarters from the Chinese delegation. The foreigners praised the Honghu shell carving as "unique Oriental painting."
SEARCH the SITE
Visiting Hubei