HOME >> Intangible
Makou Pottery
Source: hubei.gov.cn 01/05/2016 04:01:07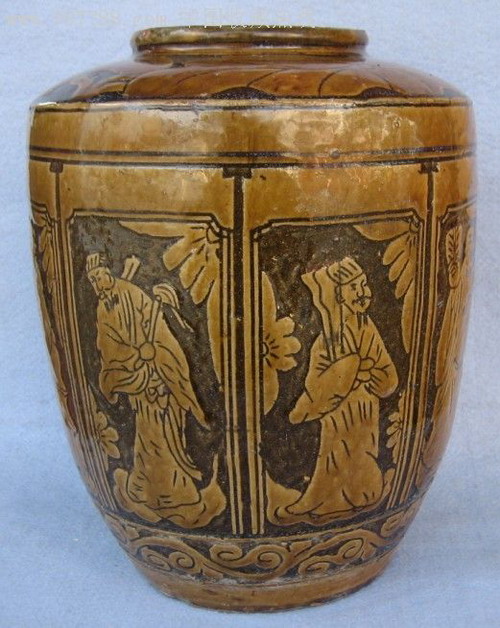 The calcination craft of Makou pottery was selected among Hubei's 3rd batch of provincial level intangible cultural heritage in 2011.
Introduction:
Makou pottery is a famous characteristic craft of Hubei. The products from Makou Kiln are folk ceramics and are in the ranks of top three ceramics in Hubei, together with the ceramics in Macheng's Caijiashan and Qichun's Guanjia Kiln. It has a history of more than one thousand years.
Origin:
The ancient site of Makou Kiln is in Makou town, Hanchuan city's subordinate to Xiaogan city, Hubei province and borders on Caodian district, Wuhan city, with the Han River to the north and the Baishi Lake to the south. It enjoys beautiful scenery and a profound cultural background. It is a water town that has flourished since ancient times. The town was called "Golden Horse" in the ancient times and is now given the name, "No. 1 textile town in Hubei," due to its highly developed textile industry.
Features:
Makou pottery is made from the unique local red clay. The red clay is fine and compact and is found only one meter under the ground surface. The resource of red clay here is abundant. This red clay provides a solid material foundation for Makou Kiln. The pottery produced from Makou Kiln resists corrosion and seepage and clangs when knocked. Makou pottery products usually include jars, pots, bowls, cans, vats, basins, ovens and other folk ware and fall into the category of folk pottery. The veteran pottery artists are good at quickly scrambling out flowers and human figures on jar surface. They skillfully carve simple and solemn pictures, offering much food for thought.
History:
According to textual research, the pottery industry in Makou began in the Northern Song Dynasty. Makou is a small town by the Hanjiang River. Signs of human activity date back to the Neolithic Age. Makou (translated to, "Horse Mouth") was called "Ximakou" ("Wash Horse Mouth") in its very beginning. According to legend, this area looked like a horse lying by the riverside, while water flowed out from a spring near the horse's mouth.. According to another legend, Gu Yu, a general of the Shu State in the period of the Three Kingdoms, passed through Ximakou one day and after he led his horse to the river to drink water, he tied the horse on a large stone. Hence Ximakou was renamed into "Ximakou" (literally "Tie the Horse"). Makou used to have an old bustling street paved with green stones and lined with shops, extending from the central street to bystreets and alleyways, totaling 3 km long. At the Guansheng village of Makou, there is a temple of Guanyu. Makou also has two wharfs: an upper wharf and a lower wharf, which are crowded with cars and ships. Almost all ships are loaded with goods and kilns. It is a spectacular scene to see.
SEARCH the SITE
Visiting Hubei