Blue and White plum vase of the four loves in Yuan Dynasty
Source: hubei.gov.cn 08/26/2016 09:08:27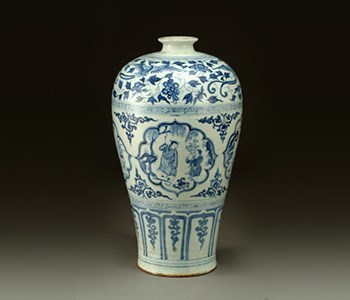 Time: Yuan Dynasty.
Unearthed from :King Yingjing's Tomb in Chongxiang city in 2006.
Height: 38.7cm,
Surface diameter: 6.4cm,
Bottom diameter: 13cm.
The stories of four ancients and their favorites are painted on the belly of the vase, which are respectively Wang Xizhi loves the orchid, Tao Yuanming loves the chrysanthemum, Zhou Dunyi loves the lotus and Lin Jing loves plum blossom and the crane.