Ancient Buildings on Mount Wudang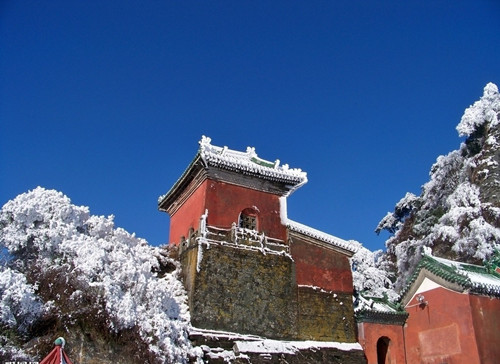 Mount Wudang is deemed World Cultural Heritage, Famous Place of Taoism, and National Key Scenic Spot. It is located within Shiyan City, Hubei Province. The ancient buildings of Mount Wudang are aligned in accordance with the legend of the immortal practice of Zhenwu and were built in accordance with the royal standards of Ming Dynasty. Effects of the buildings are so mysterious and supernatural that people might think that the buildings are made by the gods themselves. Khosla, expert of UN, said that "Mount Wudang is the most beautiful place in the world for it has combined the ancient wisdoms, historical buildings and natural scenes all together."
The Buildings of the Taihe Palace are perched on the top of the Tianzhu Peak, the highest peak of Mount Wudang with an altitude of 1612 meters above sea level. By the overwhelming height of the Tianzhu Peak and ingenious layout, Taihe Palace has highlighted the idea of matchless theocracy and reached the effect of "Heavenly Beauty".
The Golden Hall is a Hip Roof building with a brass-casted and gold-plated wood-like structure. There are three rooms in both length wise and cross wise directions. The hall is 4.4 meters in width, 3.15 meters in lengthways and 5.54 meter in heights, with a total weight of 108 tons. The hall cost 12 cubic meters of brass and 108 kilograms of decorative gold. It has endured for more than 500 years and still stands as new. The Ancient Brass Hall, also known as the "Fortune Hall", is the most ancient brass hall that still exists in China. The Violet Gold City was built in accordance with the natural landmass around the top of the Tianzhu Peak with stone strips each weighing nearly 500 kilograms. The circumference of the city wall is 344 meters with one stone carved sky gate one each side of the four sides of the city. The city is magnificent and heavenly marvelous.
To gaze into the distance on the golden top, one sees all of the beautiful landscape within the Mount Wudang, which is surrounded by rocketing peaks and covered in green. Meanwhile, one will be amazed by the celestial phenomena such as Thunder Fire Forging the Hall, Thunder on the Plain, Sea Horse Spitting Fogs, Rushing Tides of Clouds on Hand, Dawn Breaking over Tianzhu Peak, The Moon Knocking the Mount Gate and other scenes.
(Source: hbwh.gov.cn)
SEARCH the SITE
Visiting Hubei