HOME >> Facilities
Wuhan 3D Magic Art Museum
Source: hubei.gov.cn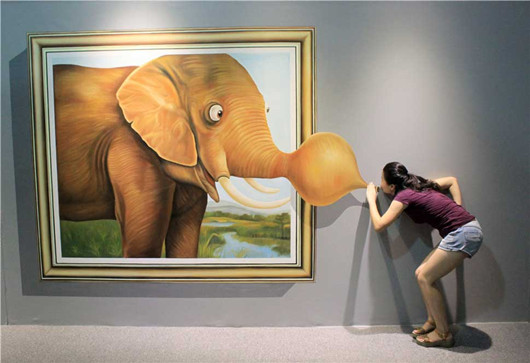 The Wuhan 3D Magic Art Museum (武汉3D魔幻艺术馆) is a fascinating place. What makes the place special is that the works in the museum are "incomplete." Not only are you the director, but you are also the protagonist in the stories presented in these works of art. This is a place that is fun for the whole family-a place where you can unleash your imagination and immerse yourself in a world of peculiar art.
The museum is a great place for art and science education. Visitors leave after having a pleasant experience and with an improved understanding of science. In the museum, visitors can explore the hidden secrets of science and psychology, which in turn reshapes their thought processes, improving their ability to appreciate art, use their imagination, and apply creative thinking practices.
The museum is a paradise for children and adults. You can go on adventures with the mammoths of the Ice Age, run from dinosaurs, or play inside a giant bubble. The museum makes the impossible possible, and dreams a reality.
Add: Hanyang Cultural and Creative Industry Park,1 Guishanbei Road, Hanyang District (汉阳区龟山北路1号, 汉阳造文化创意产业园)
Tickets: 60 yuan for adults; 30 yuan for students & children
Tel: 84760258
SEARCH the SITE
Visiting Hubei