Wuhan Art Museum is located in Wuhan, Hubei province of China.
Lying by the side of Yangtze River, Wuhan, the capital of Hubei province, a central city, is recognized as an industrial, scientific and educational base and a major transportation hub of Central China. In its total area of 8,494 square kilometers, the city of Wuhan has over ten million permanent residents, among which more than a million are undergraduates. With a 3,500-year-long history, Wuhan is well-known as an ancient and civilized historic city. Nestled by great mountains and countless lakes, filled with atmosphere, all the breathtaking natural beauty makes Wuhan a picturesque landscape city which is romantic and creative, full of vitality and delicacy.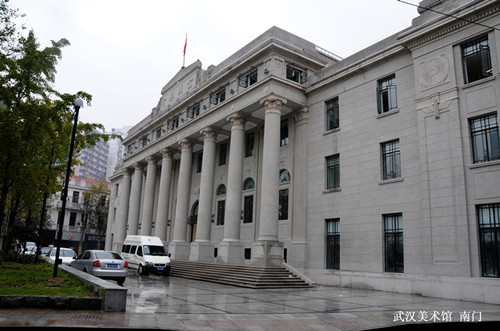 Wuhan Art Museum was founded on December 12, 1986. In 2008 it moved to the new museum site where the former Kincheng Bank situated on Zhongshan Avenue, Hankou. Influential in Wuhan and even in Central China as a public art museum, Wuhan Art Museum is dedicated to keeping archives of contemporary and modern art and history via collecting, preserving, displaying, researching excellent contemporary fine art works, focusing on combing the local art fabric and also heartily communicating with other ethnic and national art.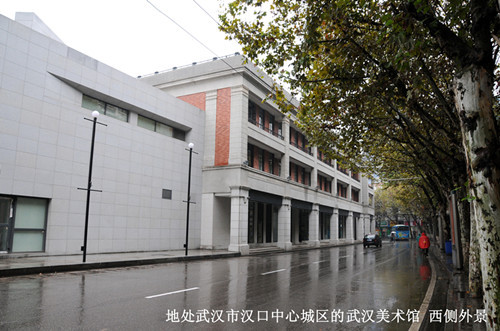 Exhibition Sites and Facilities
The five-storied new building of Wuhan Art Museum covers a total construction area of 12,139 square meters. The first floor's atrium is of ring corridor structure, which is also the center of the whole architecture. The second and the third floor are main exhibition areas with seven exhibiting halls; the total area is about 4,230 square meters and the total extension line is over 1,100 meters. The fourth and the fifth floor are office area and academic lecture hall respectively. In addition, the museum also has training classroom, reading room, repair room, and galleries to exhibit, collect and preserve art works as well as to do academic researches, art education, art exchanges and social services.
Wuhan art museum of art collection, based on domestic, nearly, and contemporary works, has collected more than 1000 works, involving nearly 200 artists throughout the country. Its collection object is mainly contributes to the hubei fine arts history development, influential artists, both within and in the fine arts of influential HuBeiJi artist's representative works, writing draft, manuscripts and so on literature material, also includes active young artists in the field of contemporary art. Collection types include traditional Chinese painting, oil painting, watercolor, sculpture, photography, and other categories, initially formed collection system with local characteristics.
Wuhan art museum public education today has formed the basic system of activities, from artistic popularity, interactive art, art experience from three aspects, set up the "wuhan art big classroom", "pyi street no.2 art salon" and "beauty art fang" brand three activities, promoting wuhan citizens to participate in art activities. Volunteer team based on "sincerity pays, for" faith and sense of responsibility, disseminating the knowledge of art and culture, since opened new opening, service the audience of about 200000 passengers.
The volunteer team of Wuhan Art Museum has provided service to the public under the motto and responsibility of "giving sincerely, asking no return" since the museum's opening for five years and has serviced over 4,500 citizens and about 200,000 audiences.
Chinese Art Museums are starting fresh as compared to the world standards. Wuhan Art Museum, young as it is, has attracted much attention with its vitality and flexibility among those counterparts in China. In this place, art assists in building a city's culture and warms cold architectures.
Facilities
Ring corridor structure in the atrium, wuhan art gallery is the center of the whole building, the architect to build a relatively independent multi-functional exhibition space, on the one hand can solve device sculpture exhibition of high requirements, on the other hand through four layers void space, brings to the art gallery, exhibition space, the formation of strong sense of rhythm. The top floor of shading system, free to open and close, as well as the introduction of natural light, and can resist ultraviolet ray, auxiliary lighting.
Two to three layers is given priority to with exhibition, wuhan art gallery, a total construction area of 12139 square meters, owns seven exhibition hall, exhibition hall area of 4230 square meters, the development of line the total length of more than 1100 square meters, including 3 exhibition hall on the second floor height is 8.4 meters, covers an area of 688 square meters. All activities panel and exhibition hall adopts slide rail type wall, makes the exhibition display, arrangement is more flexible, more abundant visual change.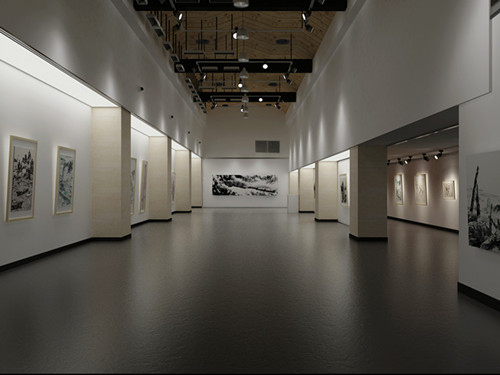 Part four layers as office space, the fifth floor of new building set up academic report. Hall facilities to international standards, conducive to large-scale foreign art exchange activities. Artists Sharon, wooden floor and bar, build relaxed and romantic breath.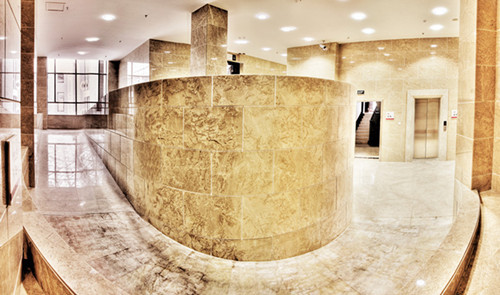 The top floor of tiantai, parasols and wooden chair, looking at the exhibition clearance, can enjoy the warmth of the sun. Art gallery, exhibition hall lighting system, adopts the imported products of the international first-class brand, can present a professional works of artistic effect.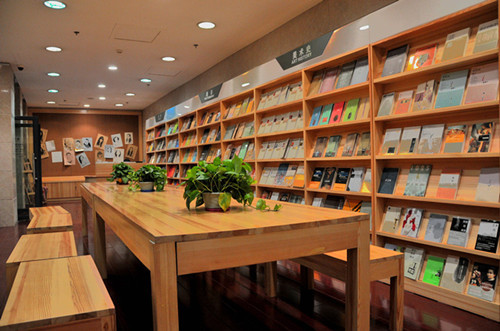 The museum also has training classroom, repair room, gallery, etc., carrying the exhibition display, protection, academic research, art education, art exchange and social service function. Fine arts training center will provide more for wuhan people participation, contact, understand the art of space. Gallery at the same time also has the artist salon, leisure hall, cafe, etc all kinds of service, to the artists and audience to build a sweet and beautiful artistic environment.Wuhan art gallery, library is geared to the needs of the audience, and service to our employees, is an important part of realizing the function of art gallery; As a professional art gallery, provides books is different from the general public reading room, has a professional, unique. Reading room as a public service is an important window, galleries of external image, create the reading atmosphere is very important, so, I had upgraded, library reading room image to create a superior reading environment for readers.
Website: http://www.wuhanam.com/en-us/index.aspx