HOME >> Facilities
New Wuhan Science and Technology Museum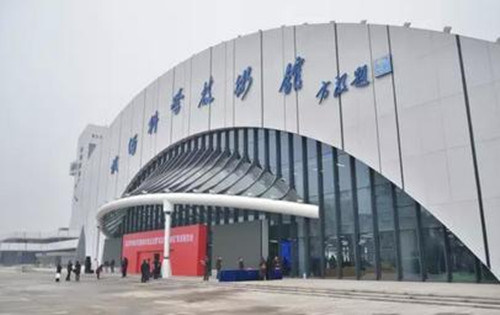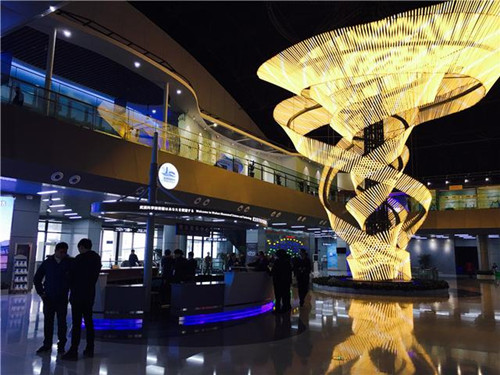 Wuhan's newest urban landmark dedicated to the popularization of science is located on Yanjiang Avenue, near the Hankou Customs House Museum. On December 28, 2015, what was once Wuhan Port became the New Wuhan Science and Technology Museum. This project took five years to complete and was supported by RMB 500 million in investments.
The New Wuhan Science and Technology Museum occupies an area of 30,600 square meters. The exhibition area covers an area of more than 20,000 square meters and features over 600 exhibits. The new museum includes eight large-scale indoor exhibition halls, such as the universe, life, and water exhibition halls, and one 1,000-square-meter outdoor exhibition area, which is located on the roof. Among the exhibition halls, the water and light exhibition halls are one of a kind in China.
The new museum is China's largest science and technology museum converted from an existing structure. The original Wuhan Port design, which resembled a boat and made this site a local landmark, was preserved. The design reflects concepts such as environmental protection and scientific development.
The new museum is open to the public for free. The museum is open Wednesday through Sunday from 9:00 A.M. to 4:30 P.M.
Tree of Exploration:
More than 2,000 hidden mysteries
The lobby area occupies a total area of 1,000 square meters and has a ceiling height of 21 meters. The most striking feature of this area is the Tree of Exploration. This impressive display is 18.7 meters tall and weighs 15 tons. It consists of 1,736 tubes arranged to resemble a collection of rising spirals. The interesting thing about this "tree" is that people can interact with it using their mobile phones. Hidden among the "branches" are more than 2,000 questions related to the 600 exhibits on display in the museum. Visitors can download the relevant mobile app and interact with the Tree of Exploration.
Water Hall:
Yangtze River flows beneath your feet
Located in one corner of the third floor of the new museum is the 2,000-square-meter Water Hall, which is focused on water science. Through the window, visitors can see the grand Yangtze River. Inside the exhibition hall, there is a 20-meter, tempered glass floor gallery which offers a splendid view of a model of the Yangtze River and its many tributaries. The models of the snow-capped mountains, prairies, and other landscape features are exceptionally realistic.
Universe Hall:
Model of the solar system
Universe Hall consists of five different exhibition areas. The total area of Universe Hall is 1,900 square meters. The "Solar System" exhibition area is based on standard solar system models. The eight planets were arranged accordingly. This visual display offers visitors insight into the movement of the planets in the solar system. Universe Hall also contains many other interesting features. The "Interstellar Corridor" includes over 160 beautiful astronomical images taken by astronomy enthusiasts. Also, because this facility is connected to China's first Worldwide Telescope online, visitors can access the telescope and view incredible real-life images of outer space.
Life Hall:
13 animal specimens to open your eyes
Life Hall has a total area of 2,100 square meters. The various sections of this exhibition area focus on the origins and evolution of life, the diversity and color of life in the world, the wonders of the human body, and modern biotechnology. This exhibition hall features 13 stuffed animal specimens; the animals on display include lions, bears, and foxes. These specimens, which were imported from Belgium, look very real.
Transportation Hall:
One of Zheng He's treasure ships
Transportation Hall showcases the development of transportation technology, as well as the application of human knowledge during the pursuit of increased speed and efficiency. This exhibition highlights the spirit of exploration. One of the special features in this area is a model of one of the great treasure ships of Admiral Zheng He. Visitors can also experience the excitement of driving model cars and boats.
Mathematics Hall:
A bike with square wheels
In Mathematics Hall, visitors can ride a square-wheeled bicycle down an uneven road. The ride is surprisingly relaxing and natural. Certain relevant mathematical principles explain how this is possible. The theme for Mathematics Hall is "Math is Power;" this exhibition area uses devices, experiments, and so on to demonstrate seven mathematical principles, such as the Pythagorean Theorem.
Light Hall:
See Yu Boya and Zhong Ziqi in the light
China's first light exhibition hall is divided into four sections. To the sounds of High Mountains and Flowing Water, visitors can appreciate the wonders of a special mirror which is half reflective and half transparent. On one side, visitors can see the meeting of Yu Boya and Zhong Ziqi at the Ancient Lute Platform, and on the other, they can see only the person in the mirror. This is a byproduct of special lighting techniques.
Children's Hall:
Earthquake experiences
Children's Hall is an exhibition area for kids which occupies a total area of about 2,300 square meters. This exhibition area was created for children ages 3 to 8. The hall is filled with bright colors and features a children's theater and many other interesting facilities. Children can walk through the forests of Shennongjia, experience an earthquake in the quake room, climb a rock-climbing wall, and play virtual soccer.
Information Hall:
Highly-intelligent mechanical crane
Information Hall presents China's first robotic
exhibit - "Robotic Sand Painter." Within minutes, the robotic painter can use sand to create magnificent landscapes. This exhibition hall also features a mechanical crane which can understand human speech. It will respond to commands like "nod," "dance," and "fly" and act accordingly.
SEARCH the SITE
Visiting Hubei