HOME >> Facilities
Hubei Provincial Library
Source: Hubei Department of Culture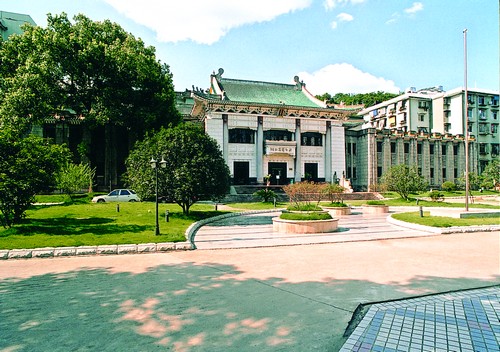 Built in 1904 by Zhang Zhidong, Governor of Huguang Region, Hubei Library is the first provincial library which opens to the public. Situated at the south foot of She Hill of Wuchang, it has an area of nearly 30,000 square meters and at the end of 2009, a collection of 4.96 million books, among which 460, 000 books are well preserved ancient books while its digital resources amount to 13 TB.
In May 2007, new library construction project of Hubei Library was approved. Located at south of Sha Lake, Wuchang Region of Wuhan City, covering 100.5 Mu, it has a main building consisting of 8 floors above and 2 floors underground with a total construction area of 100,000 square meters and a estimated total investment of 640,000,000 yuan, which is the one of the largest culture infrastructure projects of Hubei since the establishment of PRC.
The construction of main building of the new library set out on Oct.26, 2008, and is scheduled to finish before June 30th 2011. It is made up of 8 areas, which is collection area, borrowing area, consulting service area, public activities and auxiliary service area, business area, administrative area, technical equipment area and logistics supporting area.
Besides, there are various reading rooms which can hold 6300 people, and it is built with digital library, library for children, library for the blind, sub-center of culture sharing project, reception room for experts, report hall, exhibition hall and musical hall and so on. The new library is designed to hold a collection of 10.22 million volumes and receive 10,000 people each day on average.
Address: No.45, Wuluo Road, Wuchang Region, Wuhan City, Hubei Province
Postal Code: 430060
Telephone of Curator: 0086-27-88846080
Fax: 0086-27-88843780
SEARCH the SITE
Visiting Hubei