Gedian Economic & Technological Development Zone
Source: hubei.gov.cn 05/21/2013 15:05:40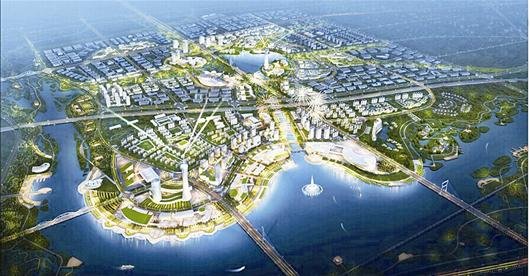 Introduction
Taking advantages of the opportunities of the reform and opening policy, the Hubei Gedian Economic and Technological Development Zone was approved to establish by Hubei Provincial Government in 1990--the first development zone in Hubei province.
In July of 2012, approved by the State Council of P.R.C., Gedian Economic and Technology Development Zone was upgraded into a national-level development zone.
Gedian Economic and Technology Development Zone has jurisdiction over one town, twenty-six administrative districts, five neighborhood committees, one farm and one academy of agricultural sciences, covering a total area of seventy-six square kilometers.
Regional Advantages
It is 23km away from Wuhan and located in the middle part of Yangtze River. Gaoxin Highway, Wujiu Railway, Wuhuang Highway, No. 316 National Road, Ehan Highway, Wujiu Railway and Beijing–Shanghai High-Speed Railway cross the development zone. It only takes ten minutes' interurban light railway from Gedian Development Zone to the commercial center in Wuhan Optical Valley, twelve minutes' drive to Wuhan New Railway Station and forty minutes' drive to Wuhan Tianhe International Airport.
Business Environment
Ezhou Power Station and a water plant have been built in the zone. Hubei Hi-tech Development Zone and China Ezhou Postdoctoral Researcher Base have also been set up here. Baihushan Foreign Trade Port lies in the west of the development zone, which makes shipment directly to Hongkong, Japan and Southeast Asia. And 5,000 - ton seagoing vessels can docked here all year long.
Industy Features
Nearly 30 large or medium-sized pharmaceutical enterprises have been set up in Gedian such as Spring Biological Engineering Stocks Co. Ltd., Human Well Pharmaceutical Co. Ltd, An Zhi Pharmaceutical Co. Ltd, Kang Yuan pharmaceutical Co. Ltd, Haosun pharmaceutical Co. Ltd. etc. The first group of well-known multinationals have invested here, which are Ball Asia Pacific Ltd., The China Paint Mfg. Co. (Hong Kong) Ltd., Owens Corning, Xingda Group, and ASUSTek Computer Inc. More than 20 universities' high and new technology are quickly being turned into productive forces there, including Wu Han University, Huazhong University of Science & Technology, Chinese Geology University, Hubei Research Institute of Chemistry etc.
Innovative enterprises group has been established under the idea of "researching and developing in Wuhan, producing in Ezhou."& "Headquartering in Wuhan, carving out in Ezhou". Gedian Development Zone has been approved as a medical industry base by Hubei provincial government; a bio-engineering and new drugs base by the Science &Technology (S&T) Ministry of China.
With a unique location advantages, favorable investment environment, and efficient administrative services, Gedian Development Zone has attracted a large number of projects from more than 20 countries and regions as the United States, Canada, Britain, Japan, Malaysia, Hong Kong and Taiwan.
Detail Information
Investment Promotion Dept.: Economic Development Bureau
Higher Authority: The People's Government of Ezhou, Hubei
Address: East Part, Gedian Town, Ezhou, Hubei Province
Postcode: 436070
Tel: 0711-3811208
Fax: 0711-3811201
E-mail: gdkfqxx@126.com