Xiangyang Hi-tech Industry Development Zone
Source: hubei.gov.cn 05/21/2013 15:05:40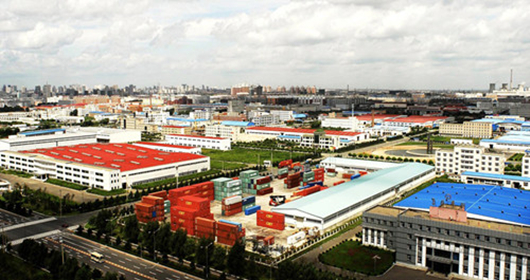 Xiangyang National Hi-Tech Industry Development Zone was approved by the State Council in November 1992.
Geographical Location
Located in the northeast of the city of Xiangyang, the largest center city in the border area of 300,000 km2 with the population of 30 million of four provinces, with a total area of 96 square kilometers and the population of 160,000. It is the place of attraction for automobile and military enterprises and a site with the most densely-distributed technologies and brains in the border area of Hubei, Henan, Shaanxi and Sichuan.
Climate
Xiangyang has a subtropical monsoon climate with average annual temperature of 15~16℃ and the annual rainfall of about 1000mm. It is characterized by the climatic features of transition from South to North China.
In 2010 the highest temperature is 36~37℃ lasting for 3 days and the lowest temperature is -4~-5℃ also lasting for 3 days. The average humidity of the whole city in 2010 is 75%.
Advantages
Industry Advantages
The Automobile industry plays a dominant role in the High-tech Zone. Relying on Dongfeng Motor Company, the High-tech Zone has already developed to be the new automobile city in China integrating with whole vehicle and key parts manufacturing, auto research & development and automobile testing. 145,000 passenger vehicles (Teana sedans) produced by Aeolus Xiangyang Automobile Co., Ltd. are sold in 2010. The company is now planning for expanding its production capacity to 250,000 vehicles a year. In addition, the large touring cars of Dongfeng Touring Car Co., Ltd., and various engineering vehicles of Dongfeng Special Vehicle Co., Ltd. are manufactured here. Engines comprise of 424,000 DPCA's engines and 230,000 Dongfeng Cummins diesel engines in 2010.
Furthermore, 218 manufacturing companies of auto bearings, electrical parts, instruments, light fittings, batteries, car door locks and other auxiliary parts form a relatively complete industry chain together. Hence, the city is identified as the "National Industry Base for Auto Power and Key Parts" by the Ministry of Science and Technology.
In addition to whole vehicle and key parts and components, Xiangyang High-tech Zone also boasts its internationally-leading sedan development center and the largest National Automobile Quality Supervision & Test Center and testing ground with the most complete functions in Asia.
New energy automobile industry is a priority for development in Xiangyang (National) High-tech Zone, which has developed the industry pattern of "Two Verticality & Three Horizontality" (pure electric and plug-in type hybrid power whole vehicle, vehicle-mounted energy, drive system and control system), and initially formed a new energy automobile industry chain involving battery, motor, drive system, controller, charging machine, passenger car chassis and the whole vehicle. Based on the industry, Xiangyang City is designated as the new energy automobile extension experimental city and the new energy automobile industry manufacture base. Key enterprises are as follows: Dongfeng Xiangyang Touring Bus Co., Ltd. under Dongfeng Motor Co.Ltd, Hubei Guotong Qingshan New Energy High-tech Co., Ltd, Xiangyang Yuqing Electric Automobile Co. Ltd.; Xiangyang Special Type Motor Co., Ltd.
Xiangyang National High-tech Zone has also formed a military industry cluster with the enterprises engaged in aerospace, mechanical and electrical integration, new materials and so on. New energy electric vehicle industry, biomedical and health industry, energy-saving environmental-protection low-carbon industry, modern logistics industry, and electronic information industry are the key industries introduced and developed by Xiangyang aiming at the future.
Currently, Xiangyang National High-tech Zone has become an important base for the city's high-tech industries, the leader of the urban industrial economy and a growth pole of its economy, and making greater contributions to the construction of making Xiangyang the provincial sub-center city of Hubei.
Traffic Advantages
Xiangyang is easily accessible through convenient three-dimensional traffic network of "a Han River, two airports, three railways and highways to all directions". If the center is Xiangyang and the radius is 1000km, tens of large cities of China, such as Beijing, Shanghai, Nanjing, Guangzhou, Chongqing, Chengdu and Xi'an etc, are within this circle. Therefore, Xiangyang becomes the courtyard of coastal cities and the transition belt of the Western Development. As the largest branch of Yangtze River, Han River flows through Xiangyang about 216 km and here it is the source of China's South-to-North Water Diversion Project. 500-ton barges can sail on Han River all through the year, with the annual throughput of over 15 million tons. The existing two airports of Xiangyang can directly fly to Beijing, Shanghai, Guangzhou and Shenzhen. The extension project of Xiangyang Airport second phase already commences and after completion, it will reach the Level 1 navigation standard. Fuyin (Fuzhou-Yinchuan) and Erguang (Erlianhaote-Guangzhou) freeways intersect here and connect to Jingzhu Freeway (Beijing-Zhuhai) in the national freeway network. Two national highways, 316 and 207 pass through Xiangyang and constitute the one-day economic circle to Shanghai, Guangzhou, Xi'an and Chengdu. The three railway lines, Jiaozhi, Hanyu and Handan, meet each other here. Xiangbei Railway Marshalling Station is one of the largest 13 marshalling stations in China. By CRH (China Railway High-speed), we can arrive at Wuhan within 2 hours. Starting from the High-tech Zone, 5 minutes enable us to enter into the national freeway network, 10 minutes allow us to arrive at Xiangyang Railway Station and 15 minutes are enough for us to go to Xiangyang Airport.
Preferential Policies
(I) Taxation policies and export policies
National High-tech Zone's enterprise policy: Xiangyang High-tech Zone, a national high-tech zone, is one of 5 zones having autonomous identification right of high technology.
Where any new registered company is identified as a high-tech enterprise, starting from the year of identification, the corporate income tax is reduced and shall be levied at 15%; if the export value reaches over 70% of the enterprise's total output value of that year, the income tax shall be levied at 10%.
(II) Policy of three items of expenditure on science and technology
1. Where an enterprise is identified as the high-tech enterprise, for certification of its technological
outcomes and application of its invention patents with advanced technology at provincial and ministerial level, the High-tech Zone will assist it in applying for various scientific and technological plans and all levels of S&T awards, such as national torch program, industry plan, key new products plan, trade vitalization by S&T plan, etc.
2. Where an enterprise has advanced technology with a certain market share, forming an industry chain, its technological level is higher than other industries and its market share is high, we can apply for the special fund of industrial alliance in the "National Key Technology R&D Program". The fund can be as high as several 10 million Yuan gratuitous support.
(III) Preferential policy for brain gain
In 2010, Xiangyang Municipal Party Committee and Government implemented the "Longzhong Talent Support Plan", awarding introduced high-level talents or teams with projects 1-3 million Yuan for supporting their business start-up, 1.5-3 million Yuan loan guarantee funds, preferential sites and houses, personal income tax deduction and the scientific and technological support of no less than 300,000-600,000 Yuan.
Ever since 2010, Hi-tech Zone will arrange at least 20 million Yuan per year for supporting returning talents from study abroad to innovate and start business in the Business Startup Park for Returning Talents. If their enterprises pass the formal certification of national high-tech enterprises, at most 300,000 Yuan fund support will be granted; within three years, full-sum award of personal income tax will be given; their employees with master degree or above can enjoy the special subsidy of 5,000 Yuan per person every year within the first three years; within three years, at most 100 square meters workplace will be provided for free; 10,000 Yuan will be granted as the housing allowance within three years; the preferential policies of household registration and citizen treatment will be given.
(IV) Financial Services
Xiangyang, as the provincial sub-center city and the regional center city, realizes the leap-forward development of economy in recent years. Large commercial banks think favorably of the city's economic growth and set up branches here. In addition to the four largest commercial banks in China, Agricultural Development Bank of China and Commercial Bank of Xiangyang, there are branches of Bank of Communications, CITIC Bank, Minsheng Bank, Huaxia Bank, and China Merchants Bank in Xiangyang. Other financial institutions, such as Industrial Bank, China Everbright Bank and Shanghai Pudong Development Bank are under negotiation for extending their business to Xiangyang and irradiating to the whole northwestern Hubei area.
(V) Venture capital investment service
Hi-tech Zone currently has more than 30 venture capital firms, microfinance companies and Investment guarantee companies.
The Innovation Center of the Hi-tech Zone is a national level innovation center and the incubator of technological enterprises for providing R&D sites, production sites and relevant auxiliary services for medium and small enterprises. Now it has an area of 100,000 square meters for incubation and 212 enterprises are being incubated with 231 patent rights.
Xiangyang Innovation Capital Venture Limited (hereinafter referred to as "Investment Company") and Xiangyang Innovation Capital Management Limited (hereinafter referred to as "Management Company") are government initiated venture capital firms for helping mature companies to be listed on the stock market and new companies to rapidly grow up.
(VI) HQ Encouraging Policy
To encourage foreign and domestic enterprises to establish their HQ or branches in Xiangyang and develop the HQ economy, preferential policies are formulated by both Xiangyang Municipal Peoples' Government and Xiangyang Hi-tech Zone. In case any enterprises registered in, or headquartered in or setting their core business operation institutions in, or independent legal entities, or branches, R&D centers, distribution sales, purchase center and information centers of large enterprises are identified as HQ offices in Xiangyang by Xiangyang Municipal Development and Reform Commission, they can enjoy an award of 30% financial contributions of local municipal financial department for successive three years.
(VII) Software program support
The Hi-tech Zone sets up a Software Park and formulates preferential policies, allocating no less than20 million Yuan from the financial budget for supporting and encouraging the development of software and service outsourcing industry. 3-5 million Yuan will be awarded as the business startup fund support to international leading talents who set their enterprises' HQs in the Software Park; if they work here for 6 years, a luxurious villa with an area of more than 300 square meters will be granted as a gift and special talents can be awarded with special allowance. For World Top 100 or China Top 50 software and outsourcing enterprises which establish their HQ offices or regional HQs or offices, make settlements and pay taxes in the Hi-tech Zone, at most 500,000 Yuan can be awarded to their offshore outsourcing business.
Cost Analysis
1. Land and infrastructure construction cost
Based on the benchmark land price stipulated by the State, with "resolution for the condition" of specific projects, we'll grant award from the financial support fund to projects with big investment and high content of technology in conformity with our industry policies.
Building cost: 500-1200 Yuan/square meters, depending on materials and structure of factory buildings;
Workplace rental: 10-15 Yuan /square meters per month, depending on materials and structure of factory buildings.
2. Administration cost
Since 2008 Xiangyang implements the "Sunshine New Deal", reducing charges, application documents and approval waiting days, thus realizing zero barrier, low cost and high efficiency and greatly cutting the operation cost of industrial projects. For merchants coming from outside, the Hi-tech Zone adopts the first-questioned-responsible policy, one-stop service policy, prompt-handling policy and fault-punishment policy, continuously simplifies the handling procedures, and raises the handling efficiency. It sets up two certificate agencies for handling various certificates for enterprises at one stop without charge, allowing merchants to apply and go and the certificates to be sent to their hands. At the meantime, a complete dialogue and negotiation system is established to promptly know the dynamic construction and development status of enterprises and actively solve problems for them.
3. Water fee (wastewater treatment fee of 0.8 yuan/ton included)
Six water works are constructed in the urban area, supplying 790,000 tons of water per day, and the water quality of the drinking water source is 100% qualified.
(1) For industrial use                   2.45 yuan/cubic meters
(2) For domestic use                     2.1 yuan/cubic meters
(3) For administration use                 2.3 yuan/cubic meters
(4) For other special industries               4.1yuan/cubic meters
4. Logistics cost
In 2008, Xiangyang was oriented as an "important traffic hub and logistics base in Hubei Province or even whole China" by the Provincial Party Committee and People's Government. As the continuous growth of national economy, the total freight volume in 2010 is more than 80 million tons. Currently there are nearly a hundred logistics enterprises in Xiangyang, forming three industry logistics chains of Xiangguan Logistics. The first phase projects of the comprehensive logistics parks represented by Guobang Logistics Park and Tianhong Logistics Park for textile industry are put into operation and other comprehensive freight transport station projects are under construction.
5. Labour Cost
As vocational and technical educations are being well-developed, Xiangyang enjoys high quality human resource, with 1 national model vocational and technical college, 5 national and provincial key secondary vocational education groups, 5 county-level vocational education centers under national and provincial support, and 20 national and provincial training bases. Every year 20,000 students are graduated from senior high schools and secondary vocational and technical schools students and 100,000 rural workers receive training, thus we can satisfy enterprises' employment needs at all levels.
Xiangyang now has a population of 5.88 million. The currently unemployed labour force comprises of new grown-ups, out-of-job town workers, labour force coming from outside and rural surplus labour force, totaling 499,700. The towns can employ 90,000 persons, but there are still 60,000 unemployed. Now there are surplus labour force of 330,900 in rural areas and about 100,000 of them near jobs.
Now in Xiangyang the average wage of workers is RMB 900-1300 per month, that of middle level managers is 1200-20000 Yuan per month and that of senior managers is 2000-4000 Yuan per month.
Directions for Industrial Development
Subject to the directions of "quality improvement of foreign investment, development of the modern manufacturing industry, optimization of the export structure, dedication to the development of high and new tech enterprises, expansion of service industry with high added value, and impel the National Hi-tech Industrial Development Zone to change towards multi-functional comprehensive industrial zone", we lay stress on the introduction of projects as follows:
①foreign investment projects, focusing on the introduction of foreign investment in industrial projects encouraged by the state;
②modern manufacturing projects, focusing on the introduction of new source vehicle, ectronic information, equipment manufacturing, biomedicine, new materials and other manufacturing projects;
③high-tech projects, focusing on the introduction of high-tech enterprises, high-tech products
and other types of small business incubator projects;
④high value-added service projects, focusing on the introduction of modern logistics enterprises, services outsourcing companies, software companies, finance companies, insurance companies and other service enterprises;
⑤projects suitable for the development of zone's infrastructure construction, the standard factor building construction, large area of land development.
⑥projects of setting up corporate headquarters, R&D centers, purchase centers, regional headquarters, distribution centers invested by World Top 500 companies, multinational companies, Chinese prestigious enterprises and Top 50 in some industry.
Address: 1 Checheng Avenue, Xiangyang City, Hubei Province, PRC
Postcode: 441004
Investment Hotlines
No.1 Investment Promotion Agency (IPA No.1)      0710-3310855 3311970
No.2 Investment Promotion Agency (IPA No.2)      0710-3320266 3320396
No.3 Investment Promotion Agency (IPA No.3)      0710-3755608 3755610
Fax: (0710) 3313587
Website: www.xfgx.gov.cn <http://www.xfgx.gov.cn>