Hubei Huida Instruments Co, Ltd
Source: hubei.gov.cn 09/14/2016 04:09:17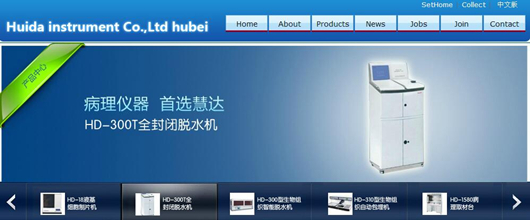 Hubei Huida Instruments Co, Ltd is a professional medical instrument company which undertaking the research, production and sale of the pathological products. Since the development of the first gradient-heating biological tissue automatic dehydrator in China at 2009, we have in succession developed other "first-in-Chinas": the first touch screen embedding machine in China, and the first touch screen biological tissue spreading and drying machine in China. With the coming out of the model HD-360 staining machine, we have further consolidated our position as the leading pathological instrument company. Due to the excellent performance, reliable quality and perfect after-sale service system, all the products which are put into market received the approval and affection from the pathological employed persons. Holding the idea of "creativity, foresight, and reliability", we will go on supplying the customers from home and abroad with perfect equipments as well as the processing of OEM.
The main products we develop and sell includes: HD-300 Series Biological Tissue Automatic Dehydrator, HD-310 Series Biological Tissue Automatic Embedding Machine, HD-325 Series Wax Microtome, HD-330 Series Spreading and Drying Machine, HD-350 Series Fast Dehydrator, HD-360 Series Biological Tissue Automatic Staining Machine, HD-360 Wax Repairing Machine, HD-1580 Pathological Sample-obtaining Table, HD-1500 Ventilating Cabinet, HD-18 Liquid-based Automatic Slide Making Machine, HD-2000 Pathological Graph-text Reporting System. As well as some associated products such as Storage Solution, Slide Cabinet, Wax Cabinet, Throw-away Embedding Box, Stain Reagent, and advanced Throw-away Blades, etc.
Sincere cooperation is welcomed with great hospitality to create a brilliant future together.
Contact
Add:Xiaogan city station road 229
Tel: +86 -712-2889699
Fax:+86 -712-2887248
(Editor: Mao Huifang)
SEARCH the SITE
Visiting Hubei