China Machinery Engineering CO.,Hubei Limited
Source: hubei.gov.cn 09/14/2016 04:09:00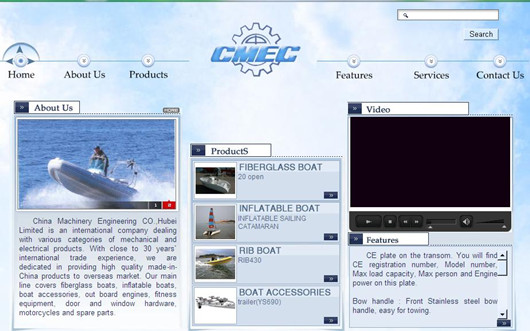 China Machinery Engineering CO.,Hubei Limited is an international company dealing with various categories of mechanical and electrical products. With close to 30 years international trade experience, we are dedicated in providing high quality made-in-China products to overseas market. Our main line covers fiberglass boats, inflatable boats, boat accessories, out board engines, fitness equipment, door and window hardware, motorcycles and spare parts.
Years? efforts and development has won us high praise and trust from our customers across the world. Our company has been approved with ISO9001 international management certificate. In this hot competition-filled market, our advantage lies on that we only recommend quality trustworthy products to the buyers at reasonable prices, but not the lowest price compared with other suppliers in the same industry. Keeping our margin limited in low scale and maintaining a long term business with our clients, we are more experienced than overseas buyers in choosing the Chinese made products. We will oversee each product before shipment on behalf of our customers. In this case the overseas
buyers won?t need to come to check the products personally.
Our products are sold globally to Europe,North America,Australia and East Asia.Directed by the principle of"Credit Essence ",we are sincrerly to cooperate with customers worldwide for mutual prosperity.All we want to do is to get our customer benefit from doing business with us. Please contact us for more information and service about detailed products.
Contact
Street Address: 10th floor,Chutian Laser Building,Guanshan 2 road,Wuhan,Hubei,PRC
City: Wuhan
Province/State: Hubei
Country/Region: China
Zip: 430074
Telephone: 86-27-87454115
Fax: 86-27-87422978
SEARCH the SITE
Visiting Hubei