Hubei Zhongxing Food Co., Ltd.
Source: hubei.gov.cn 09/13/2016 04:09:44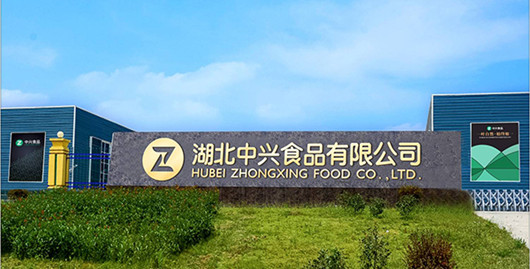 Hubei Zhongxing Food Co., Ltd is established in 2000 and located in Sanligang Town, Suizhou City, Hubei Province which is regarded as "the hometown of Chinese mushroom". With registered capital of RMB 60 million, the total capital of RMB 350 million, and occupies an area of almost 250 Mu. The company specializes in tea, mushroom, fungus and other characteristic agricultural products of Suizhou with searching, planting, purchasing, processing and selling etc altogether. Now the company is one of the leading agricultural products export enterprise. Its branches located in Fang Xian of Hubei Province, Hongkong and Thailand with almost 500 clerks, and the annual exports reaches RMB 60 million .
The company implement the whole-industrial-chain business model of "Tea base of cultivation, scientific research and production, domestic and international sales and marketing". Strive to build "Dahong Mountain", "Sanligang " and other high quality agricultural products brand with the business philosophy of "Be sincerity, make best mutual benefits". The company introduced international advanced technology, build up the product research and development center with the help of Chinese most famous agricultural college, and set up the ERP management system and remote monitoring system, improving product performance, ensuring product quality from the source.
The company have passed ISO22000, ISO9001,GAP,organic and other system certification. At the same time, our products enjoy fast sells among more than 40 countries and regions, including Europe, America and Southeast Asia and get high reputation from customers. With years of efforts, the company get the honor like "National Agricultural Export-oriented Demonstration Enterprise" "National-level Agricultural Standardization 10,000 T Edible Fungi Demonstration Enterprise" "Hubei Provincial Forestry Industrialization Leading Enterprise" "Hubei Provincial Key Enterprise in Agricultural Industrialization""Hubei Provincial Contract Abiding andPromising Keeping Enterprise" "Suizhou City Agricultural Industrialization Key Leading Enterprise" and so on. In addition, our brand "Sanligang"was authorized as "Hubei Famous Brand", "Hubei Top Brand Product".
Hubei Zhongxing Food Co., Ltd plans to invest RMB 720 million, making use of international advanced technology and overseas marketing channels, sparing no effort to build up a standard tea leading company,building comprehensively good tea brand "Dahong Mountain", dealing in various famous tea and export tea such as green tea, black tea, dark tea and tea bag series. What's more, the company will develop series of tea beverage and polyphenols extraction products . Taking measures to realize tea production value reaches RMB 2 billion , make the tea of Suizhou be known to our country and towards the world, revitalize the traditional tea industry in Suizhou. And the company will bring in several fully automatic production lines under the control of computers in order to improve the deep processing of mushrooms and fungus and expand the value-added space of traditional agricultural products.
The company has always been devoting to"creating brand by quality and promoting market by brand"since it was established , building the world-class tea brand, win the renowned reputation in the world for Zhongxing food.
Contact
Address: Hubei Suizhou Economic Development Zone
Tel: 0722 -3238206 (Sales) 0722-3589922 (administrative)
Fax: 0722 -7506858
Post Code: 441300
SEARCH the SITE
Visiting Hubei