Hubei Defon Heat Exchanger Co., Ltd
Source: hubei.gov.cn 09/13/2016 04:09:31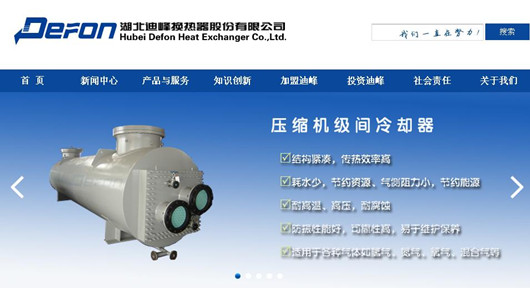 Hubei Defon Heat Exchanger Co., Ltd. (hereinafter referred to as Company) is a company with a long history of the company focused on industrial equipment heat exchanger, the heat exchanger design and manufacturing company was awarded the title of brand-name products in China, the importance of the domestic and foreign customers trustsuppliers and partners. The company is located in Daye City, Hubei Province, only 100 kilometers from Wuhan City, the Yangtze River, logistics facilities. Our products are widely used in petroleum, chemical, ship, ships, electric power, metallurgy, food, air, industrial and other fields, and has made remarkable achievements in every field.
The company's total assets of 4.2 billion yuan, and are driving the factory upgrade, plans to invest 600 million yuan to build the professional heat exchangers Industrial Park covers an area of 500 acres.
Buy absorption of innovation as well as excellent technical industrial equipment, heat exchangers, design, technology, software, product technical level, the level of quality, world-class level of service, to create value for shareholders, customers, employees, society, return each party support.
Contact
Add: Daye Road, Daye City, Hubei
Telephone:(0714)8762884
SEARCH the SITE
Visiting Hubei