Hubei Taiva Medical Technology Co.,Ltd
Source: hubei.gov.cn 09/13/2016 04:09:06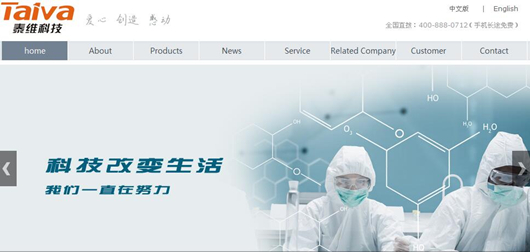 Hubei Taiva Medical Technology Co.,Ltd is situated on Xiaogan high-tech industrial Development zone also belong to the National New-high Technology Industrial Development Zone and "Wuhan Urban Agglomeration", the Unique in the country,it is has been named of "garden-style factory", and area of nearly 20,000 square meters of modern production and processing bases-Taiva Science and Technology Industrial Park.
In Taiva, every product are under good control and management environment,with the best precision working procedures,have passed the most strict technology and quality control.In the field of pathology equipment, more than one hundred proprietary technology was holden by Taiva, 16 among them have been authorized by the national patent protection,it have been the top.Through efforts and innovation, we have become a pathological instrument manufacture: the only one that can provide general products,can directly replace imported equipment;excellent technology,variety products, strong service of supply capacity. We now be the first-class pathology instruments manufacture in China.
"TAIVA"brand pathology serial products quickly to the domestic and international market and become one of the top famous brands covering exclusive technical over 100 items with twelve patent in pathology field in china.it is entitled and awarded"the most merchantable goods in Hubei Province",and "valuing Contract and Creditable Unit","Quality management Advanced Unit","Hubei Excellent Enterprise"respectively by the relative department of local government.
Since 2001,Taiva have more than 30 times to attend International Medical Instruments Exhibition, also sponsored more than 100 different levels Pathology Academic Meeting.That, we accumulated a long-term market credibility.
Under Chinese government foreign aid, Taiva products cover to whole of Africa as the peace-friend.We also stand for China's pathology technology, step into every continent international market, many counterparts come to issue the products agent,the technical cooperation.For pathology industry, Taiva won the good-honor in the world. In China,our network service has covered more than 30 provinces,and has accumulated more than 6000 products clients, it's in the top.
Tava is the largest pathology instruments manufacturers in china, also can complete independently implement with full range of pathological instruments and consumables,to become the world's top three enterprises.Proposed by chairman,"build the pathological general supply ability, guide and promote the world the new trend of development of pathology!"Under the guidance, we pursuit excellence, continuous innovation, products cover to the whole process of handling the pathological diagnosis , with instruments and technical support,Taiva's concept is"Smarter, Safer, More environmental protection"
Taiva products include:
Biology tissue products, such as intelligent tissue processor, embedding center, slicing cutting apparatus, fast freezing microtome, rapid tissue processor,constant temperature slice of spreading and drying machine,tissue dyeing machine, pathological graphic system.
Cytology products such as Diaphragm liquid based cytology production machine, Centrifugal sedimentation type liquid based cell production machine, Cervical cancer tester and TCT, LCT, L - TCT Original preservation solution and the standard set of consumables.
Materials and archives, such as tissue drawn, autopsy table,cryo cabinet,cassette cabinet,slide cabinet...
Pathological consumables, such as the environmental transparent agentia, sample fixatives agentia, tissue embedding boxes, one-off blades, glass slides,cover glass, tissue paraffin, embedding paraffin.
Contact
Add: Science and technology pironeer park , Aviation Road High-tech development Zone , XiaoGan City , HuBei Province , China.
TEL:0712-2890001 2890101
Fax:0712-2890003
(Editor: Mao Huifang)
SEARCH the SITE
Visiting Hubei